"Don't buy a cheap Acoustic bass, it's going to be nasty!"
Well, Dean has got an answer for all the folks who keep telling you that. Read our Dean EABC Review to learn more about everything this budget Acoustic-Electric Bass has to offer.
The main gripe people have with acoustic bass guitars is the low volume; Using monitors and amplification often results in crazy feedback. The Dean EABC Cutaway Bass is about as loud as it can get with a budget acoustic bass, which already makes it a winner.
Dean EABC Acoustic Bass Review
Specifications:
Body: Mahogany
Top: Select Spruce
Neck: Mahogany
Fretboard: Rosewood
Scale: 34″ (863mm)
Nut width: 1.65″ (42mm)
Pickup (Bridge): Piezo
Pre-amp Type: DMT G03 w/Tuner
Inlays: Pearl Dot
The Good:
Inexpensive.
High-quality construction.
Phenomenal acoustic sound.
Probably the loudest it can get.
Stays in tune for a long time.
The Not-so-good:
No case included.
Beginners might experience buzzing.
In-built passive pickup system is passable.
Build and Aesthetics
The Dean EABC Acoustic Bass features a select spruce top with mahogany back, sides and neck. The Rosewood fretboard houses 24 frets and sits nicely on top of a C-shaped neck.
There's not a lot you can do to make an acoustic bass stand out in terms of looks, but Dean doesn't seem to have made any compromises with this model. Abalone soundhole accent, multi-ply binding and pearl dot inlays on the fretboard are a nice touch.
The great tonewood choice is complemented with Dean's outstanding preamp system, but more on that a little later in this Dean EABC review.
Other noteworthy features include sealed die-cast tuners, PPS (Polyphenylene Sulfide) nut, Balsamo bridge and satin natural finish to complete the modern look. The Dean EABC Acoustic Bass Guitar is only available in natural finish, but I don't see that a dealbreaker in any manner.
Playability
The instrument measures about 50" in overall length and has a 34" scale neck. It might feel big if this is your first bass or you have smaller hands/physique. The size is something you need to get used to if you want to get into playing bass.
The bass is very playable right out-of-the-box. Some people might find the action to be a little bit on the high side, which is not uncommon. Luckily, a simple truss rod adjustment through the sound hole works like a charm.
It's lightweight for a full-sized bass, which is one of the primary advantages over electric basses. Beginners will find the C-shaped neck with the satin finish to be extremely comfortable to play. In short, the Dean EABC clearly surpasses all the expectations from a budget acoustic bass guitar.
It does look like a few users have reported buzzing issues with the bass, which boils down to two cases. Firstly, if you do experience buzzing, your best bet is to spend a bit more time developing hand strength and calluses and the buzzing will hopefully go away.
If you're unlucky, it might be a manufacturing flaw in which case Dean will happily replace your unit. Otherwise, you can try changing the strings, adjusting the neck, replacing the saddle/nut if it's feasible.
Sound
The Dean EABC sounds great out of the box after a few minutes of setting up and tuning. It has got that sizzle and snap of roundwound bronze strings with a bright and full tone.
The bass ships with medium gauge .045-.100 strings which are good enough and don't warrant any immediate upgrade. The fantastic sound makes it suitable for a wide variety of genres. It will perfectly fit in an acoustic set, perhaps in a coffee shop or just as a practice instrument at your home.
It's marvelous with a pick as well as with slap/pop technique. The bass has got an amazing slap tone to it, which is characteristic of roundwound strings.
A lot of you might be concerned about the volume – You'll get a lot of volume out of this thing, although nowhere close to a huge Mexican Guitarrón, but very respectable for an inexpensive acoustic bass.
Realistically, it would be hard to find an acoustic bass priced this low that's louder than the Dean EABC. If you decide to jam with your friends, you can always plug it in, but make sure to use a preamp to get the most of the instrument.
Hardware & Electronics
The EABC features Dean's new DMT G03 Preamp system with on-board tuner and standard volume, bass, mids, treble knobs. A nice little detail that I liked is that the display shows the Dean logo when it's lit up.
The bass comes with one really cool feature that I bet you won't find on most basses, or even guitars for that matter. You get note and pitch calibration settings which lets you set the tuning from the standard 440Hz to whatever you prefer.
Although the bass is fairly plug-and-play, it won't give you the most stellar output on its own. The in-built piezo system is good enough if you just want to practice or jam with a couple more instruments, but ideally you'll need a dedicated preamp for live performances or heavy jamming sessions.
This is something all acoustic basses struggle with. You can try replacing the pickup or installing an active preamp in your bass, but you shouldn't worry about that if you're mostly going to use it unplugged.
Even with all these minor flaws, the Dean EABC has an edge over the competition. It feels solid for the price and has got some nifty additions to the electronics with custom tuning calibration.
Who should buy the Dean EABC Acoustic-Electric Bass?
The Dean EABC is a versatile acoustic bass and will be a great pick for beginners and advanced players alike. It's great for small venues, recording, jamming with an acoustic guitar and practicing.
Experienced bassists might want to pick up one to expand their repertoire of acoustic instruments. It's suited for a wide variety of genres and styles whether you're a country artist, folk/indie musician or a slap bass player.
In any case, if it's an affordable acoustic bass that you want, you should seriously consider the Dean EABC.
FAQs
1. Are Dean Basses any good?
Yes. Dean is an American guitar and bass manufacturing company that produces great budget and mid-level instruments. Dean has been making electric and acoustic basses for over 40 years. The EABC is their top-selling entry-level acoustic bass that has been very well-reviewed by its users.
2. Can I use electric bass strings on an acoustic bass?
You can use electric bass strings on an acoustic bass, but they will lack the punch and volume as compared to phosphor bronze or 80/20 bronze strings. Alternatively, you can try Black Nylon Wound Tapewound Strings for a smooth feel and a sound similar to an upright bass.
3. Should I get a 4 or 5 string bass?
It totally depends on your playing style, genres, budget and personal taste. The obvious upside of a 5-string bass is the extended range (typically on the lower-end) and simplification when playing certain bass lines in different positions. But it does take more time and effort to get used to, and costs a bit more. A 4-string bass would be enough for most people, but a 5-string may be worth if you need to play those lower notes a lot.
Conclusion
I hope you liked this Dean EABC Acoustic Bass Review. It's quite a remarkable instrument for its price and is easily a front-runner among budget acoustic basses.
It's not a perfect instrument, but for its modest price tag, the EABC offers a lot. The Dean EABC is the loudest of its kind. The build quality, playability and sound is better than most $300 acoustic basses in the market.
The great thing about acoustic basses is you don't depend upon amps or electricity to have fun. Don't let electric aficionados say otherwise, and have fun!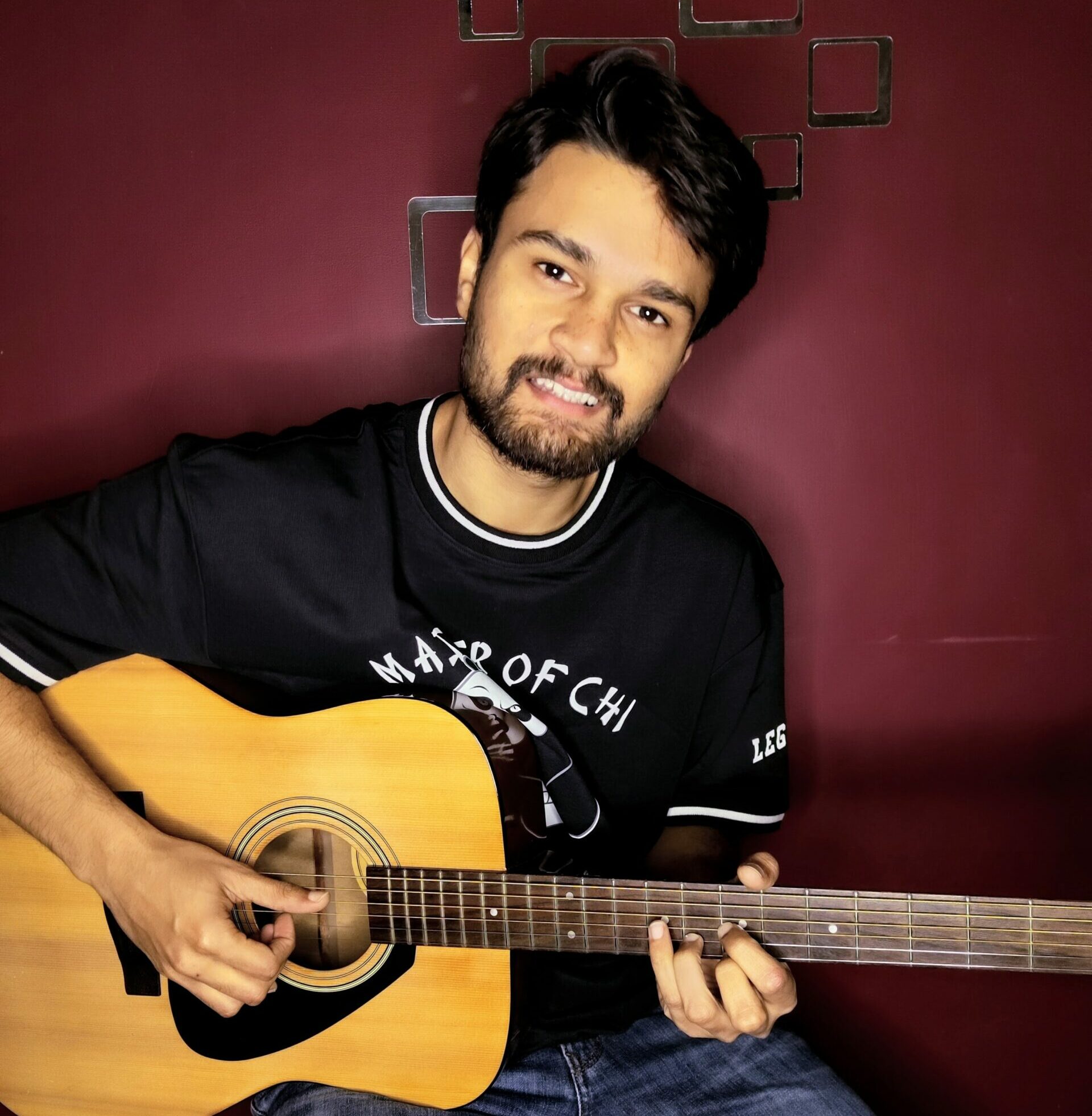 I'm Pranshu. I've been a passionate guitarist, keyboardist, and music producer ever since I got my hands on a keyboard as a small child.
With Harmonyvine, my goal is to share tips and knowledge about music and gear with you. I also enjoy recording music and guitar covers, which you can check out on my Instagram page.