Yamaha has proved time and again that you don't need a thousand bucks to buy a great guitar. We think, and a lot of experienced guitarists might agree that their budget models are a notch better than other brands in terms of overall sound and feel.
Same goes for the FG800, which is one of the most popular guitars among beginner and intermediate players.
In this Yamaha FG800 Review, we will take an in-depth look at the overall construction, playability and sound quality of this entry-level acoustic guitar.
It usually retails at around $200, which makes it suitable for anyone looking for an upgrade over their old guitar or a beginner just starting out.
Without any further ado, let's dive into the Yamaha FG800 review!
Yamaha FG800 Acoustic Guitar Review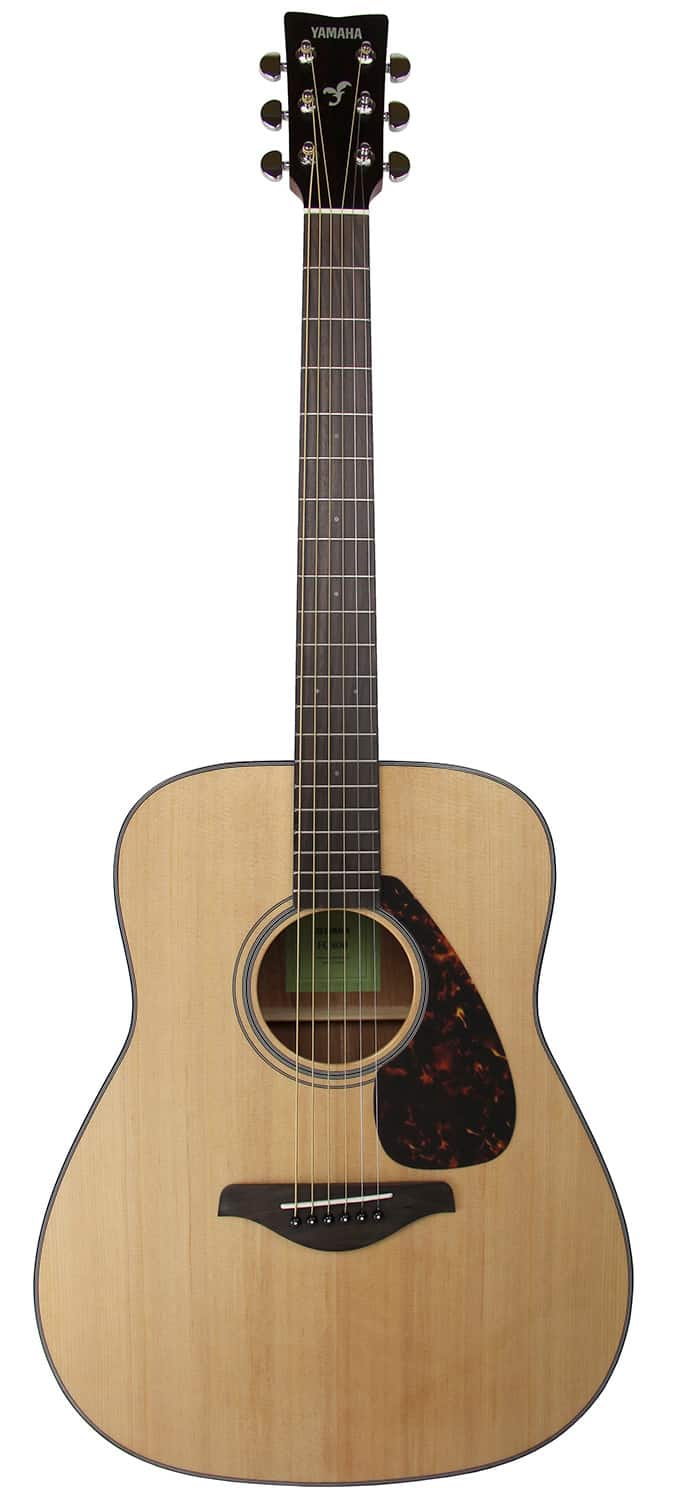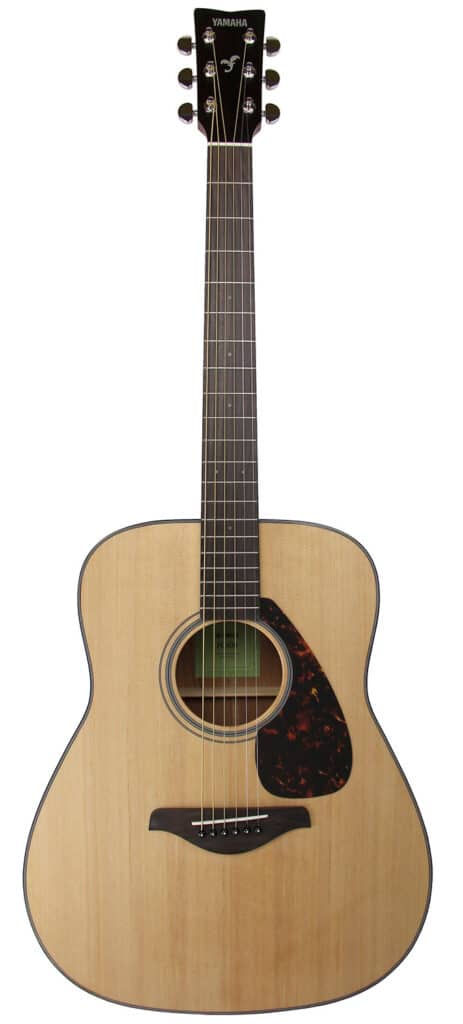 Specifications:
Body: Nato
Top: Solid Spruce
Neck: Nato
Fretboard: Rosewood
Frets: 20
Scale: 650mm
Bridge: Rosewood
Nut Width: 43mm
Machine Heads: Die-Cast Chrome
Hardware: Chrome
The Good:
Warm and rich solid spruce top tone.
Lightweight and well-built.
Stays in tune for a long time.
Excellent value for money.
The Not-so-good:
No cutaway.
String action might seem too high out-of-the-box.
Build and Aesthetics
We have been fans of the simple and traditional design formula Yamaha uses on most of their entry-level guitars.
The FG800 consists of a solid Sitka spruce top with scalloped bracing, which is unusual for this price range. Having a solid wood top enhances the durability and makes the guitar age well.
The scalloped bracing is an upgrade to the FG700 and really gives it a fatter and punchier sound with better projection i.e. the sound travels farther and is generally louder. The back and sides of the body, as well as the neck is made from laminated nato, aka eastern mahogany.
It's a full 25" scale length dreadnought sized body with a rosewood fretboard to complete the classic look.
The guitar is comfortable to hold and feel if you've used a dreadnought before. It's also great to see Yamaha offering the same die-cast tuners and rosewood bridge as the more expensive FG830.
We were impressed by the overall looks of the guitar. It seems well-built with black multi-ply binding and a sleek glossy finish.
The FG800 doesn't feature some of the aesthetics upgrades that the higher end models of the FG Series do, like an abalone rosette. But apart from that, the guitar looks professional and nothing like a cheap acoustic guitar.
Playability
We have to say the guitar came with 'slightly' higher action than what we like to have on our guitars. Fortunately, that's super easy to fix with a slight truss rod adjustment. If you're a beginner, you might want to have a professional to do that for you.
Even if you leave it at stock adjustment, the guitar plays completely fine. It's just that the higher action makes it more suitable for strumming or fingerpicking rather than lead playing.
Yamaha takes great care of user comfort and accessibility even on their budget guitars. The neck comes with a satin finish out of the box, and we found that it was effortless for our hands to glide across the neck.
Keep in mind that there is no cutaway on this one, so it's not made for playing high up the neck.
Other than that, the sealed chrome tuners keep up with the tuning very well even after multiple sessions. Yamaha have also included a faux tortoiseshell pickguard that does the job of protecting the finish from pick strokes.
We believe that the FG800 Acoustic Guitar will be comfortable for anyone whether you're a newbie or professional guitarist.
Sound
We have to say it's hard for any affordable guitar to beat the FG800 when it comes to sound quality and projection.
The great choice of tonewoods creates a warm and bright goodness while being very loud and resonant. We believe this guitar will even wow someone who is a true connoisseur with its sound. The guitar rings for days, and we think the scalloped bracing has a part to play in that.
The problem with many budget acoustic guitars is that they are too thin with subpar projection, which really holds them back in any professional environment.
The FG800 on the other hand, can give some $500 guitars a run for their money. It has a very balanced sound to it with the boomy low-end we expect from a typical dreadnought body.
The great tonal balance makes it suitable for a wide variety of playing styles – rhythm guitar, lead, fingerpicking, blues, you name it.
We think the stock strings are completely fine however putting something like an Ernie Ball Aluminum Bronze set will make it ten times better. We also like keeping the string gauge at light or medium, but that's personal preference.
Hardware and Maintenance
Though the guitar came in a pristine condition out of the box, the nato body is susceptible to scratches. But as long as you keep it away from busy places, you should be fine.
Entry-level acoustic guitars don't scream premium quality in terms of hardware, and talking about the Yamaha FG800, it's mostly a similar story. Standard die-cast tuners, urea nut/saddle and a rosewood bridge that seem good enough and hold the tuning well over multiple sessions.
You will need to stretch the strings when you receive the guitar, as they won't come stretched from the manufacturer. You may need to tune it a few times before the strings settle-in, but otherwise the guitar is a breeze to play out of the box.
Yamaha is a household name among beginner and intermediate guitarists alike, and the decades of tried and tested quality has a part to play in that.
The company provides a 1-year manufacturer warranty and free technical support with all of its products, which is perfect if you don't want to replace the guitar for many years down the line.
Who should buy the Yamaha FG800 Acoustic Guitar?
We'll thoroughly recommend the Yamaha FG800 to beginner and intermediate players alike. The guitar has a responsive bass and clear rich highs which make it ideal for a wide variety of music styles.
Even if you are an electric guitarist looking to try out an acoustic, the FG800 is perfect for you, but a slight adjustment of the truss rod to lower the action might go a long way.
FAQs
1. Is Yamaha FG800 a Good Guitar?
Yes. The Yamaha FG800 is an ideal choice if you're looking for a budget acoustic guitar. It's built well with a solid spruce top and has an amazing sound for the price.
2. Are Yamaha Guitars Good Quality?
Yamaha makes some of the best quality guitars in pretty much any budget range – from entry-level guitars to the high-end ones. They have been renowned for excellent quality control and customer service.
Some of their budget models like F310 and C40 (Classical Guitar) have been a benchmark to beat in their respective categories.
3. How High is the String Action on Yamaha FG800?
A good action on an acoustic guitar is somewhere around 1.8mm (High E string) – 2.5mm (Low E string) on the 12th fret. The action on the Yamaha FG800 is slightly higher than 2.6mm.
Some people may find it slightly high, but luckily it's easy to fix. A basic truss rod adjustment will lower the action on the higher frets, and will make the guitar much more playable.
4. Yamaha FG800 vs FG830?
The main difference the FG800 and FG830 is the lamination wood used for the back and sides. It's rosewood in the FG830 and nato in case of the FG800. The rosewood body does enhance sustain and brings fullness to the sound balancing the lows and highs even more.
The FG830 also offers some cosmetic upgrades over the FG800. If you're willing to spend a little more on better looks, you'll get the abalone rosette and cream binding of the FG830.
Verdict: Yamaha FG800 Review
The Yamaha FG800 is an amazing guitar in terms of its sound, construction and most importantly, the price. Experienced players will find it to be a solid backup option which they don't have to worry about being knocked or bumped. Yet, it's inexpensive enough to be in the reach of most beginners looking for the best acoustic guitar for the money.
At less that $200, the Yamaha FG800 can easily give guitars even twice its price a run for their money. You will notice some minor quirks and flaws in these mass-produced instruments, but the price to quality ratio far outweighs that. If it's an entry-level acoustic dreadnought you want, this is the guitar for you!