Back in the day, you would be lugging huge pieces of gear if you wanted your bass to be heard in a crowd. Fortunately, amplifiers these days have gotten less enormous and at the same time, more powerful.
This means that you can spend time preparing for the performance instead of worrying about how you would be toting a massive rack plus a cabinet or two to the gig.
Today, we'll be reviewing the 5 best bass amps for gigging available in the market right now. Our roundup features bass amps of all kinds – from moderate-wattage combos to beastly 800W amp heads, from budget options to premium ones.
Whether you need a lightweight amp for playing in small clubs or coffee shops or need enough firepower to blast an entire arena, we've got you covered!
So, let's dive in!
Top 5 Best Bass Amps For Gigging
Image
Product
Details
Price
Fender Rumble 500 v3
Type: Combo
Wattage: 500W
Speaker: 2 x 10″
Weight: 36.5 lbs.
Check Price
Hartke Kickback 12
Type: Combo
Wattage: 500W
Speaker: 1 x 12″
Weight: 28.2 lbs.
Check Price
Markbass Little Mark
Tube 800
Type: Amp Head
Wattage: 800W
Speaker: N/A
Weight: 6.31 lbs.
Check Price
TC Electronic BH250
Type: Amp Head
Wattage: 250W
Speaker: N/A
Weight: 4 lbs.
Check Price
Darkglass Electronics
Microtubes 500 v2
Type: Amp Head
Wattage: 500W
Speaker: N/A
Weight: 5.29 lbs.
Check Price
---
The one that sets a new gigging standard
The Fender Rumble 500 v3 is our pick for the best bass amp for small and large gigs. It truly does "Rumble."
It might not be the biggest, sexiest, or loudest amp out there, but it's certainly the best medium-to-large club amp money can buy.
There are 3 pre-shaped settings: Bright, Contour, and Vintage. I personally like the contour engaged with the 4 EQ knobs set to flat when plugged directly into the amp (no gain). You just can't make it sound bad. 
On the other hand, the overdrive on the lower setting combined with the vintage is the exact sound that classic tone lovers have been searching for. Fantastic low-end boom and thump combined with the warm tone and growl is just an awesome sound that's suitable for the majority of styles.
It has the cool option to turn off the tweeter too.
500 watts of power coming from the 2 X 10" speakers is PLENTY… And with a line out, it becomes very reliable and holds up well.
The weight to power, portability, sound, ease of operation, and overall quality are second to none. Plus, Neo magnets and class D amplifiers are leading the future of live music.
It also works perfectly as a keyboard amp, so it's super versatile as well.
Verdict:
This might be the best class D combo amp on the market. The headroom is fantastic, the tone is full, the EQ is usefully stacked, it can be pushed hard, and the dirty channel is just a lot of fun. Plus: 2 x 10″ speakers and a switchable horn, that's very quiet and doesn't have that annoying hiss, and has a line out to your PA. This is a great combo amp that only weighs 37 pounds!
---
Beware the Power
First, this thing looks beautiful on stage or in home studios. Second, the lightweight aspect gives you freedom and makes a huge difference in transportation. Third, it's super clear and deep and sounds like a studio-grade chest-slamming bass amp that has depth and richness.
You can shape the tone nicely, and it's easy to find exactly the sound you want. I also love the balanced out. You can send that to another speaker or even an interface for direct recording.
It has a tilt-back design that really helps clear up what you're hearing, and gives you an in-your-face type sound… 500 watts… huh?
The shape (notch) filter makes some serious changes to the sound and thump from this little guy. The 3-band EQ is useful, but when you engage the shape and then gently dial the EQ just slightly, you can get some full warm tones that defy this design.
If you really want to see what the amp section is capable of, unplug the internal speaker and hook the amp's speaker out to a larger cabinet. It's clear, loud, and sounds great.
In my opinion, the Hartke all-aluminum cone speakers during the 90's didn't sound that good, but these new paper/aluminum hybrid speakers are simply amazing. Hartke has really redeemed themselves with this one.
Verdict:
The Hartke Kickback 12 checks all the right boxes: Lightweight, powerful, and clean tone that quickly and easily adjusts to different settings. All controls and ports are on the front for easy access, and the kickback position helps in hearing what the crowd hears. So, if you want to be heard, want a good tone that makes you sound bigger, and want to be able to carry the amp around easily, then get this gem.
Great 200W Alternative – Gallien-Krueger MB112-II
A superb alternative to the Hartke KB12 is the Gallien-Krueger MB112-II. This one comes with a little less power – 200W as opposed to 500W, but I think it performs slightly better when pushed really loud.
Another thing I like about Gallien-Krueger is that all of their newer models are now completely manufactured in the USA. These now outclass most other budget amps in build quality and sound.
For the same reason, the MB112-II is a little expensive though. It also skips the tilt-back design of the Hartke which makes it really unique. But if you need a bass amp with top-notch quality and a bigger, cleaner sound when playing louder, I would seriously check out the MB112-II.
---
Mean and Clean!
A few players say they barely hear any difference between the solid-state and tube sounds on the Markbass. I disagree! In the mix, there is a huge difference – the tube sound is open and deep, just like a good tube amp. And you can easily revert to a solid-state sound as well by adjusting the Solid S/Tube knob.
The tone control frequencies are right where they should be, and the VLE (Vintage Loudspeaker Emulator) is a must-have for cabs with a tweeter (it'll tone the tweeter down with a turn of a knob).
The size and weight are fabulous – you can carry it in a backpack, and it'll fit in the seat of your car. It's very portable but still has enough girth to let you know that there are some solid components inside that are going to work for you, night after night.
The push/pull mute switch on the master volume knob is another great innovation.
This amp has XLR input with +48V phantom power – useful for floor effects that can use it. Having the ability to provide phantom power to an additional channel as well as having independent gain settings is, quite frankly, AWESOME.
Our top cab recommendations for pairing this beast are:
The Markbass Standard 104HF 4 x 10": Incredible power thanks to neodymium magnets.
The Markbass Classic 152 SH 2 x 15": Two 15s are the right choice if you want to move a lot of air.
The Markbass Traveler 121 Ninja 1 x 12": Astonishing 800W delivering full volume in a smaller rig.
Verdict:
It is ridiculous how smooth this head performs. Abundant power, easily adaptable to every sonic environment, all of the controls are simple for sculpting your sound on the fly. The Little Mark Tube 800 adapts to every required twist and turn. With the ability to blend solid-state and tube preamps, you can get just about any sound you want out of this amp.
---
Good Things come in Small packages
Four pounds and it replaces a full rig of small pedalboards and an old beefy amp.
Tuner? CHECK! Leave the rack or pedal tuner at home.
EQ? CHECK! Leave the preamp at home.
XLR out? CHECK! With pre and post-FX, leave the DI box at home.
TonePrint? CHECK! Leave the compressor pedal (and any number of effects) at home.
Power? CHECKMATE! Leave the 40+ pound amp at home.
You can now carry your bass head in a laptop case, just WOW!
The BH250 is seriously massive sounding for its size with a very clean tone and serious chest thump. The lows are very articulate, and the highs are crystal clear. No mud whatsoever.
The output of this little thing is incredible. I'm also a fan of the TonePrint effects. Tuner, aux input, and headphone capabilities for practice… want more ???
The TonePrint is absolutely awesome. Once you download the app to your phone, there are tons of different pedal effects to choose from, custom-designed by the hottest bassists out there.
These are not fake-sounding cheese effects. It comes out the same as having that exact pedal dialed in the way you like it.
Man, this little amp can really sound like a 400-watt amp when used with the right speakers!
Pairs excellent with the 1×12" Aguilar GS112 300-Watt for clear and powerful sound, and the TC Electronic RS212 2×12" 400-Watt cab for extra headroom and thump.
Verdict:
The TC Electronic BH250 is easily one of the best small bass amps for gigging. It's like a Swiss Army knife of portable bass amps. I highly recommend this product to bassists who are on a budget or need to run directly into a PA system while still sounding good and would rather not carry around a two-hundred-pound bass amp in a truck!
---
Class D finally comes of age with Darkglass Electronics
The image of Darkglass is associated with metal and its derivative genres, but you will find in this 500W amplifier a sound palette large enough to cover post-rock, hardcore, punk, and even rock 'n' roll. This is the definition of a rock amp in the broadest sense.
The Microtubes 500 v2 is a fantastic amp – all-analog with a Class D module.
The two distortions included are truly well-engineered. This is what the brand is known for: its distortions. My preferences go towards the more "vintage" version.
With a volume potentiometer for the distortion and another for the mixture of clear and distorted tones, the sound palette is very wide. Everyone will find their sweet spot with this setup!
Plus, the 6-band equalizer is so effective that you might as well start to cry. The bands were extra-meticulously selected by Darkglass Electronics.
The DI with custom IR (impulse response) is efficient: three onboard simulations that activate with a single button. You can use your PC to access and load other IRs (supplied in large enough quantities to find your joy).
It also has a headphone output with cabinet simulation to play silently when rehearsing alone, late at night, at home. The fan is also quiet, which makes it a great choice if you are a bedroom player or have a home studio.
The Microtubes 500 is designed to pair seamlessly with the DG112NE 1×12" cab which has a custom-made "Eminence" Neodymium driver for the definition you deserve.
Verdict:
At this price point, you won't find another offering that gives you a 6-band EQ, 3 cab simulations, two distortion channels, and headphones out with cab sim. Combine all the features and weight of the unit and you can't go wrong. This is a good acquisition for quality studio takes and live performances. Marketing might make you want to go your way, but give it a chance because it offers great versatility.
---
Buyer's Guide: How To Choose The Best Bass Amp For Gigging
Buying a bass amp requires a bit more research than buying an electric guitar amp. Simply because getting a great bass sound on stage is much harder than getting a great live sound from your guitar.
Also, since you'll be using it in different scenarios and under factors you can't control, it's key to get one that fits your needs.
Here's what you should be looking at when choosing the best bass amp for gigging:
Combo or Separate Head and Cabinet
There isn't too much difference between a combo amp and a separate head and speaker cab.
The "head" includes the pre-amp and processes the signal (effects and EQ), while the power amp is, in simple terms, the wattage. A combo amp is just these two pieces in a single box.
Combos are easier to transport and usually tend to be a little bit cheaper than buying the items separately. However, some head units are more flexible in their inputs and outputs.
Speaker Cabinet
To be able to reproduce the bass frequencies to their full potential, the speaker diameter needs to be larger than normal and move in and out a long way. A standard guitar speaker cannot handle the movement required to produce bass frequencies as needed.
This is the main reason why bass cabinets must be sealed or ported. For the lowest frequencies, the speaker needs to have more air inside the box push back to keep it under control.
Number of Speakers
There are actually lots of speaker cabinet combinations out there. Some of the most used by bass guitar players are the 4 x 10″, 1 x 15″, 1 x 18″, and the 8 x 10″.
For large venues, some bassists combine a 1 x 15″ cab with a 4 x 10″ cab, making a crossover to reproduce the lower frequencies on the 15″ speaker for fullness, and from the low mids and up on the 4 x 10″ for clarity.
Amplifier Power
The wattage of the bass amp determines how loud it can get.
A 50 to 100-watt amp is perfect for home practice. But, for gigging purposes, amps ranging from 200 to 500 watts or more are ideal for small to medium-sized venues.
That's because the low frequencies need a lot of power for moving air and moving big speakers back and forth.
---
Conclusion: Best Bass Amps For Gigging
In the last decade, the quality of small bass amps has improved tremendously. So, if you doubted them in the past, you can now be at peace knowing that today's models not only won't let you down but can make you sound better than ever before.
To summarize, I feel the Fender Rumble 500 V3 sums up where the craft is right now. It's a standard in quality and portability. It's my choice if you need just one amp for both small and large venues.
If you require an extremely portable amp, the TC Electronic BH250 is the one for it, and it has the very useful capacity of emulating pedals, too.
And if you're looking for one of the most featured bass amps in the market right now, then you'll absolutely love the Darkglass Microtubes 500 v2.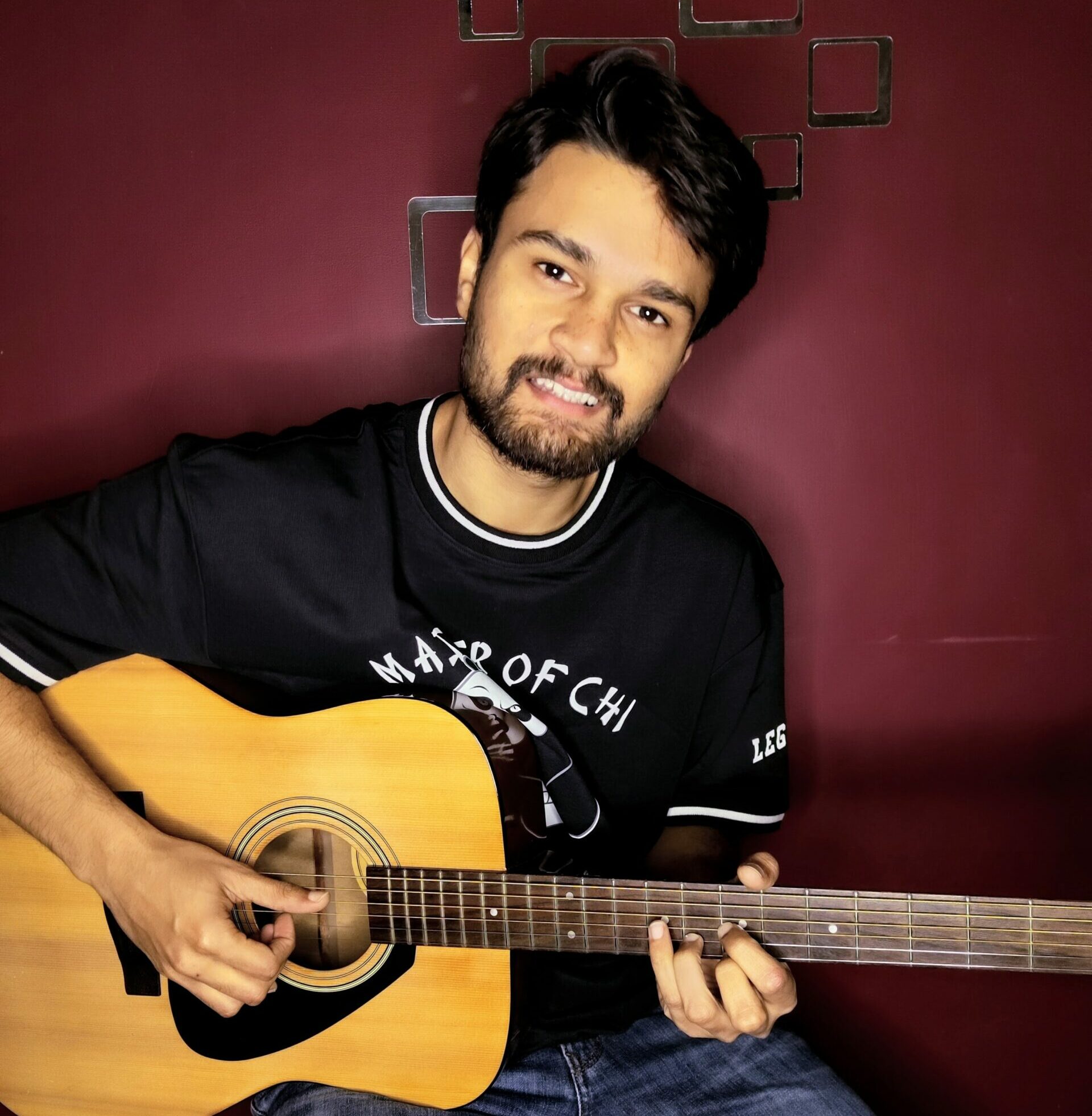 I'm Pranshu. I've been a passionate guitarist, keyboardist, and music producer ever since I got my hands on a keyboard as a small child.
With Harmonyvine, my goal is to share tips and knowledge about music and gear with you. I also enjoy recording music and guitar covers, which you can check out on my Instagram page.