What's the first thought that comes to your mind when you hear the name "Taylor Guitars"?
Surely something along the lines of "high-end," "royalty," or maybe even "can't afford." But what about "value for money"?
No, I've not gone crazy!
Here are the best Taylor guitars for the money. Each one is priced under $1000 and offers unmistakable Taylor quality without breaking the bank.
---
5 Best Taylor Acoustic Guitars for your Money
Image
Product
Details
Price
Taylor GS Mini-e
Top: Spruce
Back/Sides: Rosewood
Neck: Sapele
Scale: 23.5″
Check Price
Taylor 214ce
Top: Sitka Spruce
Back/Sides: Rosewood
Neck: Tropical Mahogany
Scale: 25.5″
Check Price
Taylor Academy 12e
Top: Maple
Back/Sides: Sapele
Neck: Maple
Scale: 24.9″
Check Price
Taylor 114e
Top: Spruce
Back/Sides: Walnut
Neck: Maple
Scale: 25.5″
Check Price
Taylor BT2 Baby Mahogany
Top: Mahogany
Back/Sides: Sapele
Neck: Mahogany
Scale: 22.75″
Check Price
The GS Mini-e is absolutely one of my favorite small guitars from Taylor. It sounds extraordinary and is extremely comfortable, and not to mention, is the perfect size for travel.
Build/Construction
Taylor makes the GS Mini in a variety of tops: Spruce, Mahogany, Rosewood, as well as a gorgeous all-Koa model. The Koa is certainly the most beautiful! But Spruce top is where you get the most lively and expressive acoustics.
Besides that, you can also get variants without the electronics and for $150 less, but in my opinion, having inbuilt electronics makes it way more fun and versatile.
Taylor ships the GS Mini in a lightweight and well-padded case, so you don't have to worry about any scratches on the finish.
Another important thing – many of Taylor's laminate body guitars have a bump at the back. Don't fret if you see that on your unit. It's part of the design as it helps the back from bubbling in.
Playability
In terms of size, the Mini sits somewhere between the Taylor Big Baby and a dreadnought. Its scale (23.5 inches) is also slightly shorter than the typical 25.5-inch full-size scale.
In my opinion, this size is perfect for newbies, travelers, and even professional guitarists.
Such is the quality you get with Taylor, that even their entry-level acoustics are set up perfectly. The GS Mini is ready to sing right out of the box.
The ebony fretboard feels lovely on your fingers and the action is set extremely low from the factory. If you feel like your heavy playstyle is causing buzzing, just raise the GS Mini's action by a hair.
Sound
The GS Mini (particularly the rosewood and mahogany) is loud unlike any parlor guitar I've heard before! It resonates like crazy and sustains forever.
You won't be disappointed with the sound, especially for a compact travel guitar.
The Koa variant might sound a little dead and muffled when you first get it. That's because Koa takes time to open up, and it's inherently not as bright as mahogany or spruce.
The only time it might disappoint you is when you're jamming or gigging with a few different instruments in a heavy setting. No matter how good the loudness and projection, it's still a parlor-sized body and will get drowned out by a $3000 Taylor or Martin.
But if you need a parlor guitar that's as powerful as a dreadnought, the GS Mini does it!
Overall
The GS Mini is suitable for every style – Flatpicking, fingerstyle, and for every person, thanks to its small size.
It sounds fine through a mic, while plugged in, and on its own. The GS Mini is certainly one of the best Taylor guitars for your money; it's just hard to go wrong with it!
Pros:
Value for money
Build-quality and concept
Sounds like a full-sized guitar despite its small size
Comes in a well-padded and lightweight gig bag
Cons:
Satin finish might scratch easily
---
Taylor's 200 series guitars are all about delivering that high-end Taylor experience at a price that won't break the bank, making them an ideal middle-ground for intermediate or advanced guitarists.
In particular, I'm talking about the Taylor 214ce, which is probably one of the best-sounding grand auditoriums under $1000.
Build/Construction
Taylor's craftsmanship and build quality clearly reflects in this guitar.
Every aspect of the guitar, be it the sight, voice, and feel, is distinctively and unmistakably Taylor.
The 214ce sports a simple aesthetic, but the real beauty lies in the premium craftsmanship.
You get a familiar Sitka spruce top and Indian rosewood back & sides, which is a tried-and-true tonewood combination.
The hardware is top-notch. Flawless finish, ebony bridge, perfect factory setup, and high-quality tuning pegs so you won't find yourself tuning the guitar every time you sit down for practice.
Playability
I believe that the simplistic looks are only there to dupe you into believing it plays simply as well.
The truth can't be further from that.
Low action, cutaway, effortless fretboard, the perfect size – It's a dream to play!
The neck feels heavenly even in the upper register. And as there's a cutaway, you'll never have any trouble playing your favorite riffs and solos.
If you want to learn the most challenging acoustic songs and still have a pleasurable experience, this is the guitar to buy.
Sound
To me, the 214ce sounds and plays exactly like an acoustic should sound. The beautiful harmonics seeping out of the GA-sized body almost feel like the guitar is singing along with you.
If you're someone who has always played budget acoustic guitars, the sound and projection of the 214ce will surely blow you away.
The fact that it delivers such results without an all-solid construction is quite remarkable. The tone is full and rich with adequate bass and crystal clear mids and highs.
That's not it!
The Taylor 214ce is one of the few mid-range guitars that can accurately replicate its acoustics when plugged in. This is all thanks to the ES-2 pickup system that Taylor even uses on their guitars four times the cost.
The only con is that you don't have an inbuilt tuner, which is a strange appointment to omit.
Overall
Personally, I find the Taylor 214ce to be an excellent blend of quality, sound, and versatility that is fully capable of handling all your needs for several years down the line.
The great thing about this instrument is that it isn't designed for a specific genre or need. Fingerstyle guitarists, Flat-pickers, Singer-songwriters, Country-pop guitarists, or Indie/Folk musicians can all enjoy the full and pristine tone of this guitar.
At this price, you'd be hard-pressed to find an alternative that poses a real challenge to the 214ce.
Pros:
Premium-grade materials and construction
Extremely natural and transparent electronics
Perfect setup and action out-of-the-box
Satin finish on the neck allows your fingers to glide across effortlessly
Cons:
No onboard tuner
Could have a real bone nut & saddle
---
3. Best for Students/Intermediate Players – Taylor Academy 12e
Taylor's Academy guitars are aimed at learners, and they have everything a beginner needs from a low-cost acoustic guitar.
Here's the Academy 12e, the grand concert member of the family.
Build/Construction
The Academy series is all about a simple, no-frills aesthetic. So you won't get any fancy rosette or binding, but what you get is a sturdy construction, elegant appearance, and a flawless finish.
The Academy 12e has a wonderful solid Sitka spruce top – loud, bright, and brilliant sounding.
Yes, the sides and back are laminate, but remember that overall tone is predominantly determined by the top, so it's not a dealbreaker by any means. If anything, it helps reduce the cost significantly.
It's a simple approach but they managed to make it look beautiful!
In terms of build quality, you might easily guess that it's on par with guitars twice its price point.
I must say the exclusion of a tortoise pickguard, and real bone nut/saddle bugs me. But that's nitpicking really.
Playability
If there's one appointment every acoustic must have, it has to be the contoured armrest on the top edge of the body.
This simple addition by itself makes the Taylor Academy 12 one of the most comfortable guitars you'll ever play, hands down!
If you've only played cheap guitars so far, you'll find that the action is very low, so low that it might cause some buzzing if you really dig in. But for any experienced player, this is as low and comfortable as you want the action to be.
Sound
It's a Grand Concert body, which has a little more brightness than a dreadnought, but a tad less bass than the latter due to its smaller size.
The spruce and Sapele combo produces balanced tones with a lithe and merry timbre. One aspect that this Taylor clearly blows other similarly-priced acoustic is the sustain.
If you want your guitar to sustain for days, this is the one! It's only bested by something like a sustainiac pickup. Well, you get the point 😉
Taylor has always been known for its top-tier electronics. The Academy 12e follows suit, with  Taylor's Expression System 2 piezo pickup, preamp, and an onboard tuner. You don't get the 3-band EQ, however, and Taylor provides a single tone for sound shaping instead.
Overall
Taylor promotes this as a learner guitar, but in my opinion, the Academy 12e is a solid all-round intermediate guitar.
Pros:
Fatigue-reducing armrest is a blessing to have
Incredibly well-built
Super low-action, which is ideal for delicate playing and percussive techniques
Comfortable size for beginners
Cons:
---
4. Most Value for Money – Taylor 114e
If you really liked the 214ce and absolutely wanted to buy one only to be held back by your budget, get its cheaper cousin instead- the Taylor 114E!
Build/Construction
The 100 series is that "first step" from the budget Academy line onto Taylor's high-class acoustics. It's nowhere close to their premium models both in terms of quality and face value, but you'll still find traces of the "magic" of 200 and 300 series when you hold the 114e.
It's a grand auditorium body made out of layered walnut and crowned by a Sitka spruce top. The neck is made of maple and houses a smooth ebony fretboard.
Again, simple design. No fancy binding or inlays!
The overall fit and finish of this instrument check all the right boxes. You can replace the tusq nut/saddle with real bone to complete the modern look, but it's not necessary.
Playability
The maple neck and the ebony fretboard feel comfortable to navigate, and even though you don't get a cutaway on this one, accessing higher frets would be easier than a dreadnought.
The best thing about Taylor is that their grand auditorium shape is nearly the perfect size for acoustic guitars.
It's compact, so smaller players won't have any trouble, but it's big enough to get that versatile and full tone out of it.
There is a cutaway variant of the 114e as well (the 114ce), but that costs about $150 more, and isn't available all the time.
Sound
When put side-by-side with the 214ce, you'll definitely hear the difference. The 214ce is a lot more pristine and crisp with its sound and projection.
But the 114e is not far behind!
Here you're getting a slightly warmer tone (or I should say less bright) with less shimmer and subtle lows. This makes it perfect for fingerstyle blues and jazz, and ideal for players who don't have a very delicate playing style (*cough* metal guitarists *cough*).
What's nice is that this guitar borrows the same solid Sitka spruce top from its elder sibling, for those balanced tones and excellent projection.
Another thing that's exactly the same is the ES-2 pickup system, and that makes the 114e one of the best-sounding guitars at this price while plugged in.
Overall
The Taylor 114e is the middle-ground between the starter Academy series and the premium 200 (and above) series. And if that's what you want, don't even think twice before grabbing the 114e.
The reason it's not higher on this list is that most players will find more value in either of the above models.
Beginners might want to stick with the cheaper Academy series. And if you have a bigger budget, it's almost always worth it to save a little bit more and go for the 200 series.
Pros:
Lightweight and compact design for better playability
Excellent onboard electronics
Taylor deluxe gig bag included
Cons:
Lacks inbuilt digital tuner
Getting a cutaway version makes it a little overpriced
---
Our last recommendation is for… ummm…babies?
It might sound like that's the case, but the Baby Taylor is certainly a great small guitar for novices and students.
Build/Construction
It's remarkable that you're getting a solid mahogany top on this petite instrument. This, along with the layered Sapele body gives this guitar a warm, dark, and mid-range-heavy sound.
The size is slightly smaller than a 3/4 guitar, which makes it a phenomenal travel companion. It's made from Sapele and houses an ebony fretboard with 19 frets.
Also, Taylor provides a good-quality gig bag with this guitar – a perfect accessory for any student or traveler.
Playability
In my opinion, and I believe most guitarists will agree, playability is the most important aspect for a beginner/kids guitar.
Your kid probably doesn't even care how it sounds. All they want is something that is easy to play and inspires them to practice more.
The baby mahogany comes with a 22.75-inch scale length, which is smaller than the typical 25.5-inch scale. Your fingers don't need to stretch as much to reach different parts of the neck.
The good thing is that the nut width is just about what you'll find on a full-sized guitar – 42.8mm. You'll never feel cramped while fretting notes.
It's also extremely lightweight, which is exactly what we need in a great travel guitar.
Sound
You can't expect a 3/4 body to ring and sustain the same way as a dread, but I can say that the BT2 surely packs enough punch to leave you in awe.
It can be a little thin-sounding and doesn't take heavy strumming just as well. But for the price and size, it's very impressive tonally and produces clear overtones and rich harmonics.
The mahogany wood does give it a warmer sound with toned-down highs, and the small air cavity loses on low-end and sustain.
But that might be a good thing for you. Sometimes you don't need the super shimmery and twinkling sound for practice and other cozy venues.
Overall
The Taylor Baby Mahogany BT2 is definitely not for everyone!
It would be perfect if you need a high-quality small guitar at just a little premium, specifically if you need the Taylor brand name without spending thousands of dollars.
Pros:
Ideal option for kids and smaller students
3/4 size is perfect for travel
Impressive sound and loudness for its size
Inexpensive
Cons:
The narrower neck and shorter scale might be harder for players with large hands
Lacks low-end
An inevitably 'tiny' tone when strummed hard
---
Final Thoughts and Verdict
I just reviewed five of the best Taylor guitars for the money! All of them are excellent in their respective price and size segments.
In the end, I'd like to leave you with a summary of the entire article.
If it's a small-body guitar you want, get the Taylor GS Mini. Where the Mini can give most dreadnoughts a run for their money, the Baby Taylor can feel like a compromise between sound and price.
Baby Taylor, on the other hand, is great for kids or smaller players on a budget.
The most premium-feeling and sounding guitar under $1000 is undoubtedly the Taylor 214ce. You'll be hard-pressed to find a situation where the Taylor 214ce doesn't cut it. But if you're not willing to spend that much, the Taylor 114e is an equally capable option only with a few minor downgrades.
Finally, the Academy 12e is the most comfortable guitar on this list, and is the one every student and intermediate player must seriously consider.
---
FAQs
Is a Taylor Guitar Worth the Money?
You be the judge? Are Taylor guitars worth YOUR money?
If you know that you're paying for the build quality and decades of innovation and refinement, they are certainly worth the money.
If you can get a Taylor in your budget, you already know that you're getting one of the best acoustic guitars at that price, and maybe even several times the price.
Do Taylor Guitars Hold Their Value?
Taylor guitars have the reputation of retaining stable prices in the market over time. This applies to all of their guitars in all price segments.
So you can be assured that your guitar will hold its value, and you'll get a solid deal out of it in the future.
Is Taylor Guitar Better Than Martin?
One is not necessarily better than the other. It's like comparing apples to oranges.
Both Taylor and Martin have decades of experience and provide top-tier hardware and craftsmanship that few other brands can come close to.
Do Taylor Guitars Sound Better With Age?
Firstly, any guitar with a solid wood construction will dry and become more resonant with age. Since nearly all Taylors have at least a solid top, you can expect them to sound better with age. The same doesn't apply to laminate woods.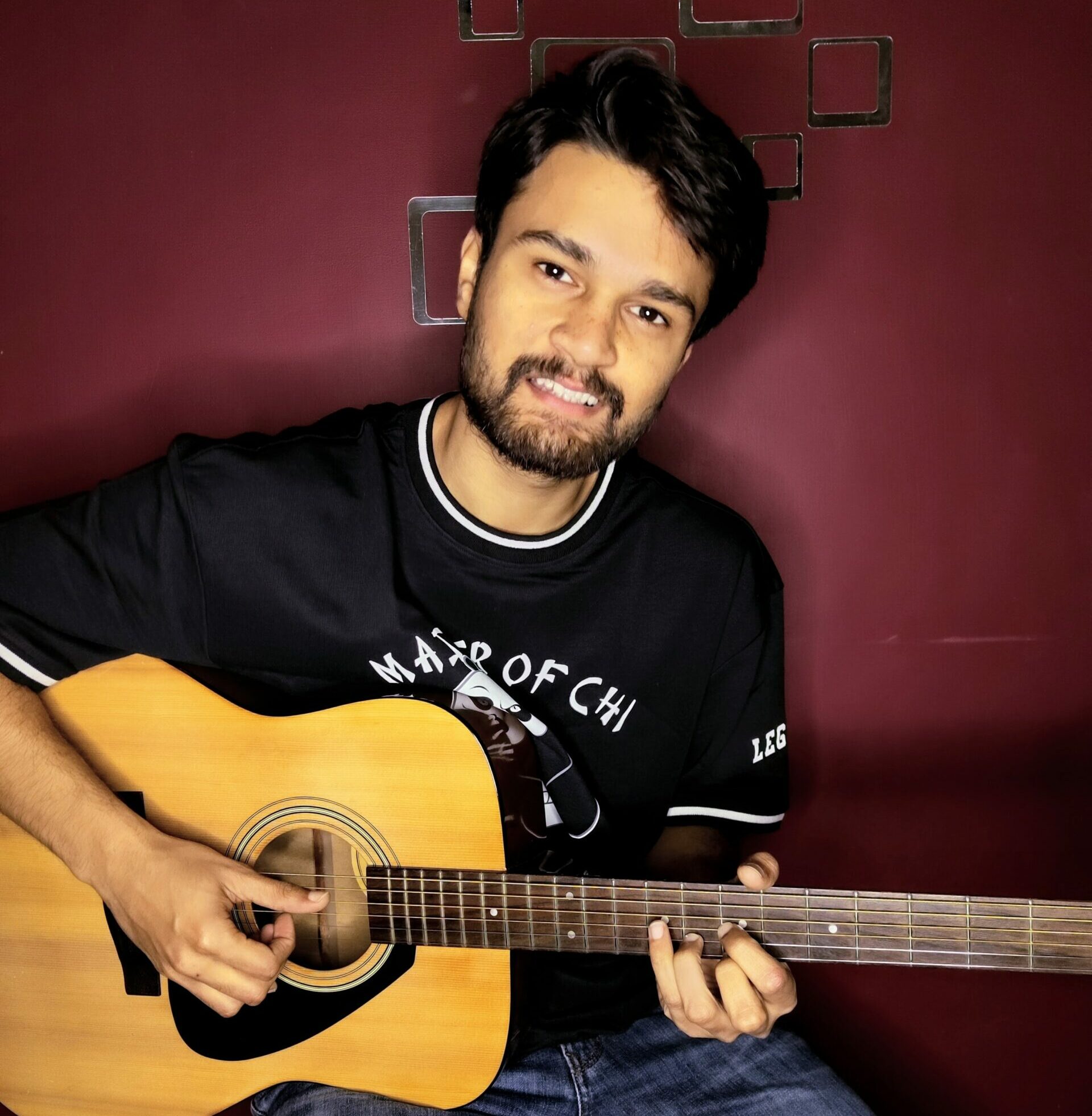 I'm Pranshu. I've been a passionate guitarist, keyboardist, and music producer ever since I got my hands on a keyboard as a small child.
With Harmonyvine, my goal is to share tips and knowledge about music and gear with you. I also enjoy recording music and guitar covers, which you can check out on my Instagram page.