Acoustic basses might not be the best deal when it comes to intense jam sessions with a bunch of friends, but sometimes all you want is to pick up your instrument and have fun with it.
It's not feasible to take your amp, cables & pedals everywhere with you, and that's where having an acoustic instrument pays off!
If you've been doing your research on the Internet, you must have come across the Ibanez AEB10E Acoustic-Electric Bass. It makes perfect sense. It's one of the best-selling acoustic basses from Ibanez.
In this Ibanez AEB10E Review, I'll be sharing my thoughts & insights on this mid-range acoustic bass to help you decide if it's worth your money. Stick around to get an extensive breakdown of the instrument and find out what makes this bass stand out.
Ibanez AEB10E Acoustic-Electric Bass Review
Specifications:
Body: Sapele Mahogany
Top: Spruce
Neck: Okoume
Fretboard: Purpleheart
Scale: 32″ (812.8mm)
Number of Frets: 22
Nut width: 1.69″ (43mm)
Pickup (Bridge): Fishman Sonicore
Pre-amp: Ibanez AEQ-SP2 Preamp w/Onboard tuner
Inlays: Pearl Dot
The Good:
Excellent value for money.
Build-quality & looks.
Rich and full acoustic sound.
Reasonably loud.
Good size & weight for beginners.
The Not-so-good:
Case not included
Not the best pickups.
Build and Aesthetics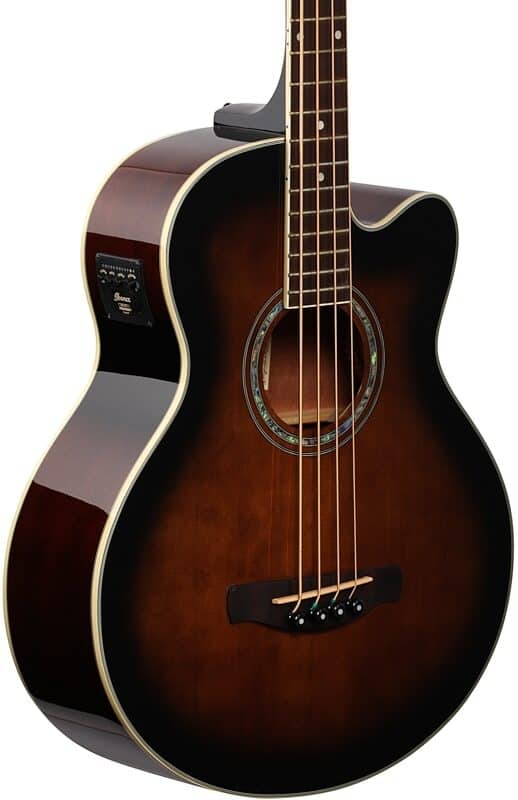 Aesthetics are subjective, but one thing I can tell is that the Dark Violin Sunburst finish is surely a head-turner. The Natural finish variant looks just as pretty, but the appeal of the burst finish is on another level.
Ibanez AEB10E incorporates the tried-and-true tonewood combination of spruce top and mahogany back & sides. The deep and robust tone coming out of the body just inspires you to keep playing.
Moving towards the neck, you'll find a purpleheart fingerboard sitting on top of a mahogany neck. Ibanez has added pearl inlays, abalone rosette, and pearl binding to complete the modern look of the instrument.
Thick bass strings demand a greater strength from the body and hardware. This is where Ibanez's high-quality craftsmanship comes into play. The die-cast tuners feel solid and hold the bass in tune for longer periods. The bridge, nut and saddle come properly set up out-of-the-box
The bass also sports an SST preamp & Sonicore pickup along with a built-in tuner, but more on that a little later in this Ibanez AEB10E review.
Overall, it's very well-built for the price and the fit-and-finish is remarkable for a mass manufactured unit. Finding any imperfections on the bass would be quite a challenge.
Playability
The bass is very much playable right out of the box without much setup!
One negative thing you'll hear about cheap acoustic basses is how nasty they are to play for a beginner. While that's true for a lot of them, some like the Ibanez AEB10E and Dean EABC manage to stand out as being comfortable enough.
The 32″ scale is a bit shorter than the standard 34″ long scale, which makes it easy for people with a shorter physique. The thin-profile neck (23.5 mm – 25.5 mm) aids playing rapid bass lines and intriguing progressions on the gorgeous purpleheart fretboard.
If you're a complete beginner and have never played a bass before, you may find it uncomfortable in the starting. But any seasoned bass player won't have any problems playing the Ibanez AEB10E. As a beginner, the large size and stiffer strings is something you have to get used to.
Apart from that, the setup and string action is on-point. Not to mention, the bass comes with a truss rod and adjusting the neck is as easy as it gets.
Usually the stock strings on budget instruments are lackluster. While it's much better in case of this one, you will definitely notice a vast difference if you throw an Elixir or D'Addario Phosphor Bronze set on it.
Sound
We always keep hearing that acoustic basses are just not loud enough and will get drowned out when played next to a guitar. Well, that's somewhat correct (unfortunately)!
Acoustic basses can not compete with the projection & loudness of an upright bass or acoustic guitar. But not always are we going to play them with other instruments, right?
Well, the Ibanez AEB10E sounds better than any other acoustic bass that's priced even remotely close to it. Where other cheap basses tend to be dull & hollow, the Ibanez sounds very open and full with a lot of sustain. The thing I liked the most is that the stock strings are good enough and don't require any immediate upgrades.
It's reasonably loud for a 32″ scale bass and has a warm & expressive tone to it. It's mellow and clear but you can get it to sound very bright if you use a plectrum or slap-pop technique.
The bass manages to deliver plenty of mid-range, even in the lowest registers. This is partly due to the roundwound bronze strings and partly due to its high-quality tonewoods. These mid frequencies are important for cutting through the ambience when playing it next to other instruments or listening to songs on your headphones.
Overall, the AEB10E is ideal for quiet bedroom practicing or other small venues. For a coffee shop or maybe a campfire setting, it's perfect. Anything more than that will require you to plug it into an amp, which brings us to the electronics.
Electronics
Ibanez has included a combination of the AEQ-SP2 preamp and Fishman Sonicore pickup system.
This preamp features:
A 3-band EQ
A phase switch
Sound shaper
An onboard tuner
It used AA batteries, which is an improvement over the conventional 9V units. The AEB10E also sports an XLR out right next to the 1/4-inch jack, which is not found on the Ibanez AEB5E.
We admire Fishman's pickup technology, but acoustic bass is not the best instrument to play plugged-in. It's impressive when you play alone or in a small acoustic setting, but it just cannot quite cut it if you're with a band or in live performance scenarios.
The sound is not as open as an electric bass or some high-end acoustic models. This could be attributed to the fact that the plastic saddle which is used to transfer the sound to the piezo pickup beneath leaves a lot to be desired. As a result, the pick-ups don't deliver deep sounds that well.
Having said that, the pickup is very flexible as far as functionality goes and delivers a wide range of sounds. As long as you stick to smaller venues, you can bring out the bright highs for lead playing or the punchy lows & mids for smooth bass lines as desired.
If you really want to oomph the sound, I suggest installing a bone saddle for better sound delivery & sustain, as well as a plug for the soundhole to eliminate any feedback. Proper EQ settings, amp setup and the right strings can really make a difference as well.
The following video demonstrates the plugged-in sound and the various pickup settings in-depth.
Who should buy the Ibanez AEB10E Acoustic-Electric Bass?
The Ibanez AEB10E is more than just a beginner's or intermediate player's acoustic bass. It's perfect for people who like to simply pick up & play their instruments. If you like to take your instrument to campfire or canoe trips, you'll love the convenience of an acoustic bass.
Where setting up an electric takes takes a few minutes – connect the cables, turn on the amp, connect pedals if you are into that, an acoustic bass is there to just grab and play it, thus inspiring you to practice more.
Having said that, I would highly suggest you try them in person if it's your first bass – perhaps in a nearby store or from someone you know. Acoustic basses are great for their convenience and unique sound, but they are certainly not as versatile as an electric bass.
One hidden benefit to practicing on an acoustic bass is that it builds dexterity & finger strength. You may find it extremely rewarding to practice certain parts on an acoustic, and then play them on an electric bass.
Conclusion
Ibanez AEB10E is a nice sounding and well-built acoustic bass. Its inexpensive price definitely makes it beginner-friendly, but it's equally suited for professional bassists who want a backup instrument.
Despite the minor quirks and some inevitable ABG limitations, it's one of those rare mid-range basses that sound great & and don't play havoc with your fingers. At this price point, finding a better acoustic-electric guitar will pose a real challenge to anyone.
I hope you enjoyed reading this Ibanez AEB10E Acoustic-Electric Bass Review. Before you leave, don't forget to check out our Dean EABC Review which is probably it's biggest competitor out there.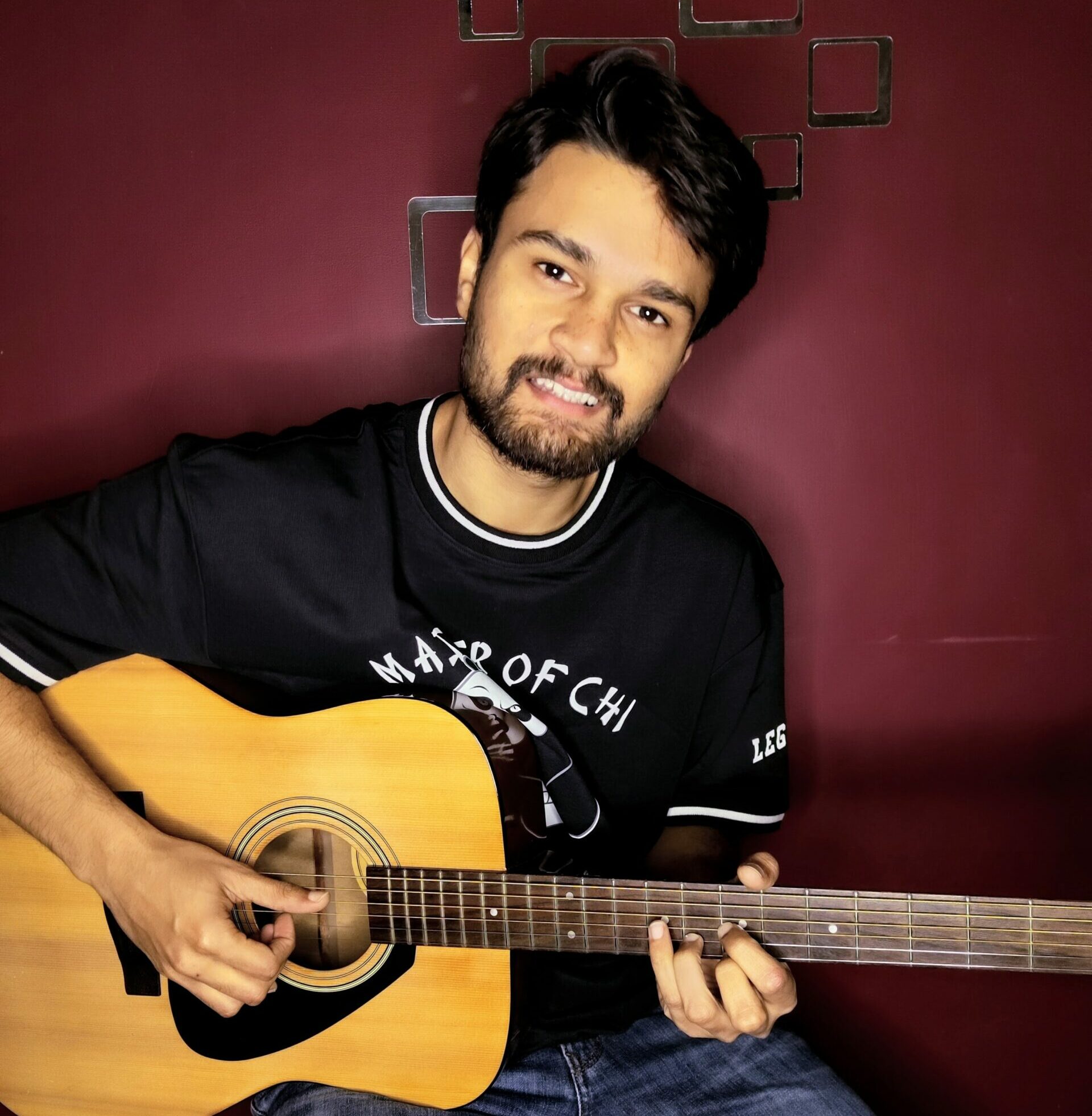 I'm Pranshu. I've been a passionate guitarist, keyboardist, and music producer ever since I got my hands on a keyboard as a small child.
With Harmonyvine, my goal is to share tips and knowledge about music and gear with you. I also enjoy recording music and guitar covers, which you can check out on my Instagram page.