Mexican music is extremely diverse with a wide variety of instruments, genres, and styles. Interestingly enough, modern Mexican music is a blend of traditional Folk and Mariachi styles with all sorts of European influences such as cultural Spanish music and German Polka.
Well, a lot of you might recognize iconic Mexican songs like La Bamba and Bésame mucho, but not a lot know the names of the artists behind them. Today, in particular, we're talking about some of the most famous Mexican guitarists we recommend listening to.
The Most Famous Mexican Guitarists, In No Particular Order
We have included the names of both contemporary and modern personalities on this list. Have a look at the most famous Mexican guitar players of all time.
---
1. Chamín Correa
Chamín Correa was a legendary Mexican guitarist and one of the most influential names in the history of romantic music. His father, a seasoned musician, introduced Correa to the guitar when he was 5. He was hooked and went on to become one of the greatest Mexican artists of all time, spanning a career of over 6 decades.
He was most famous for his boleros in Spanish Romantic Music, as well as his voice and his magic with the Requinto guitar. He was also a member of the band Los Tres Caballeros, where he won 4 golden discs. He died at the dawn of 2020 at the age of 90, after struggling for over a decade with lung problems.
---
2. Carlos Santana
Whom we know as one of the greatest guitarists of modern times, Carlos Santana actually started with the violin when he was 5. He picked up his first guitar three years later. Santana was born in Mexico but moved to San Francisco, California when he was young.
He was greatly influenced by rock and blues, which he incorporated into his playing style along with Latin American Jazz. Santana has been one of the most commercially successful Mexican guitarists of all time, with 10 Grammy Awards and 3 Latin Grammy Awards to his name.
Some of Carlos Santana's most famous songs are Black Magic Woman (1970), Oye Como Va (1970), Smooth (1999), and Evil Ways (1969), among others.
---
3. Hugo Fernandez
Hugo Fernandez is a famous Mexican Jazz guitarist born in Mexico City. He founded the Hugo Fernández Quartet consisting of him along with Pablo Prieto, Luri Molina, and Sergio Galván. The quartet has since then featured several artists and focuses on bebop and jazz styles with inspirations from pop-rock, classical, and world music.
---
4. Fher Olvera
José Fernando Emilio Olvera is the lead singer and guitarist for the Mexican rock band Maná, one of the best-selling Latin American music bands of all time with over 40 million albums sold worldwide.
The band's music ranges from prog-rock, Latin pop, pop-rock, calypso, and reggae. Besides lead vocals, electric and acoustic guitar, Fher Olvera also plays the harmonica in several of his performances.
---
5. Rodrigo y Gabriela
Rodrigo y Gabriela is an acoustic guitar duo incorporating Flamenco nuevo with heavy metal and instrumental rock into their music. The duo was born in Mexico but due to the underwhelming scope of the Mexican rock scene, they moved to Europe.
The duo has released three live albums, five studio albums, and one EP. Their style of music and entertaining performances are the reason why they're so popular among the modern generation.
Their fifth studio album – Mettavolution, won the Grammy Award for "Best Contemporary Instrumental Album" in 2020.
---
6. Sergio Vallín
Sergio Vallín is the lead guitarist of Maná and is a key member of the band. Fher Olvera first came to know about Vallín during a Luis Miguel concert when Vallín gave a copy of his guitar demo to guitarist Kiko Cibrián.
The demo eventually reached Olvera, who was seriously impressed by it. Vallín has since been an integral part of Maná.
---
7. Saúl Hernández
Saúl Hernández is a very versatile musician and the lead singer of the Mexican Rock Band Jaguares. He started the rock band called Las Insolitas Imagenes de Aurora in the early 80s, which later became Caifanes.
Caifanes is accredited with changing the history of rock in Mexico forever. They released four successful studio albums before coming to an end in the 90s.
Soon after the breakup of Caifanes, Saúl founded Jaguares which has since been one of the most influential bands in Latin America and the entire Mexican Rock History.
---
8. Ed Maverick
Eduardo Hernández Saucedo, a.k.a. "Ed Maverick," is a very talented young musician from Mexico. He taught himself the guitar and began to compose his own songs at the age of 16.
Ed Maverick has seen rapid success on social platforms like Spotify and YouTube. Besides his beautiful guitar skills, he has a powerful, deep voice that will blow you away.
---
9. Abraham Laboriel
Abraham Laboriel López is a highly talented bassist from Mexico. His distinctive fingerstyle, tapping, and slapping technique have earned him the 42nd spot among "The 100 Greatest Bass Players of All Time" in the Bass Player magazine.
Laboriel's radical style and techniques have found their way to over 4,000 recordings and soundtracks, including some spectacles by Michael Jackson, Herbie Hancock, Madonna, Quincy Jones, Paul Simon, George Benson, and Andráe Crouch, to name a few.
---
10. Sabo Romo
Sabo Romo is a guitar and bass player, as well as an adept music producer from Mexico City. He started composing songs at a very young age and discovered the bass when he was eighteen.
Sabo Romo was one of the founding members of Caifanes, along with Saúl Hernández. He was also a part of Jaguares but only briefly.
---
11. Pat Vegas
Pat Vegas is an American-Mexican vocalist, guitarist, and bassist known as the producer of the rock band Redbone. He was featured in the 2017 film Rumble: The Indians Who Rocked the World, which expounds on the influence of Native Americans on rock 'n' roll.
Some of his famous singles include "Come and Get Your Love", "Maggie", "We were all wounded at Wounded Knee" and "Witch Queen of New Orleans".
---
12. Charlie Monttana
Carlos César Sánchez Hernández a.k.a. "Charlie Monttana" was a popular name in Mexico's rock urbano scene. Besides his career in music, he is also known for his contribution to philanthropic works.
Sánchez released several successful hits with his first solo album, including "Vaquero Rocanrolero", "Mi Terrible Soledad," and "Por Qué El Amor Apesta." 
---
Summary
We hope you've enjoyed reading this round-up of famous Mexican guitar players you should listen to. Please share this post and spread these names out there.
Mexico is home to lots of incredible musicians and performers, and this is just a handful of them.
If you know a famous Mexican guitarist that we missed, let us know in the comments below!
As always, thanks for reading!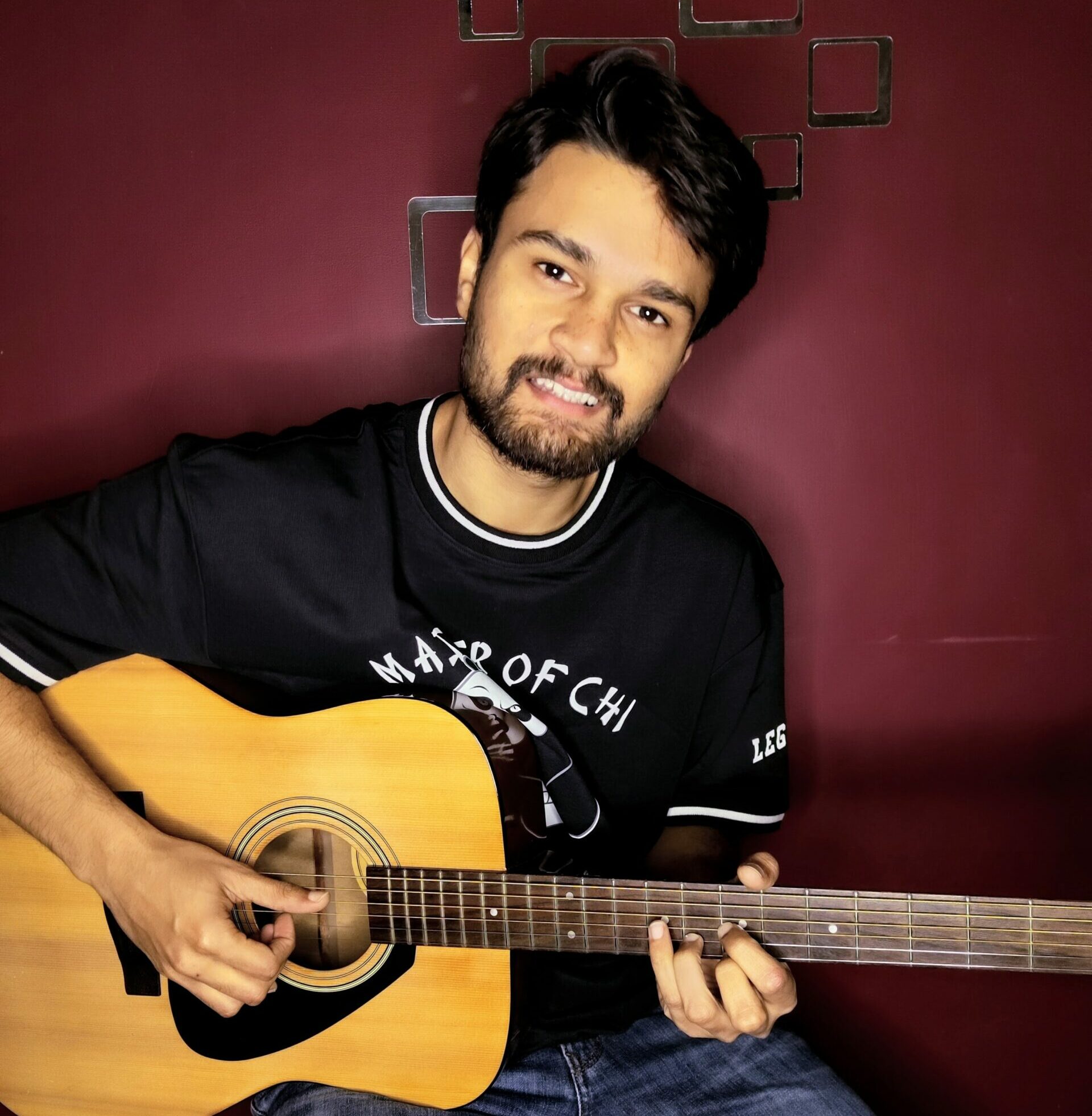 I'm Pranshu. I've been a passionate guitarist, keyboardist, and music producer ever since I got my hands on a keyboard as a small child.
With Harmonyvine, my goal is to share tips and knowledge about music and gear with you. I also enjoy recording music and guitar covers, which you can check out on my Instagram page.