Gibson and Martin – Two household names in the guitar world. What happens when their alpha-dreads face off?
Two flagship standards.
Two super-classics.
Any acoustic aficionado would like to have both guitars in their arsenal. But of course, that's not possible for most of us.
But how can you even decide which one is better between the Gibson J-45 vs Martin D28?
This guide might make it a little easier for you, but in the end, it's really like comparing apples to oranges.
Note that I'll be comparing the J-45 Standard (Mahogany back and sides), to the D28 (Rosewood back and sides). This is because these models come at a very similar price around $3000.
Enough talk. Let's dive in!
Gibson J-45: Overview
The J-45 is the most iconic dreadnought from Gibson. It was introduced in 1942 and has since been the most popular and best-selling Gibson acoustic.
Although it's a part of Gibson's 'Jumbo' line, it's not that jumbo at all. With a shorter scale and an overall smaller footprint than the Martin dread, this is a more manageable acoustic.
The most peculiar features of a J-45 Standard include:
Round-shoulder body
Traditional hand-scalloped X-bracing
Full and pleasant sound with excellent projection
Pre-installed LR Baggs VTC pickup
Gibson now makes many different variants of the J-45, including mahogany and rosewood models, as well as original '50s vintage models.
Martin D28: Overview
D28 encapsulates the almost two-centuries-long history of both Martin Guitars and the dreadnought design.
While the guitar still cherishes the authentic sound and feel, the newer models combine vintage appointments with a modern look and feel for an even better experience.
You know it's a Martin D28 when you see:
Square-shoulder body
A new forward-shifted X-bracing pattern
Fit & finish of the highest quality
Powerful sound with deep boomy bass
Martin also makes a few different variants of the D28, including a scalloped-braced HD28, a Deluxe model and Authentic 1937 Vintage models. There is also a variation with electronics but that will cost you significantly more.
Gibson J-45 vs Martin D28 Acoustic Guitar: Differences
| | | |
| --- | --- | --- |
| | Gibson J-45 Standard | Martin D28 |
| Body Shape | Sloped shoulder dreadnought | Sloped shoulder dreadnought |
| Top Material | Sitka Spruce | Sitka Spruce |
| Back and Sides | Mahogany | East Indian Rosewood |
| Scale Length | 24.75" | 25.4" |
| Nut Width | 1.72" | 1.75" |
| Fretboard Radius | 12" | 16" |
| Electronics | LR Baggs VTC undersaddle pickup | (Optional) |
Build & Design
Both guitars are unique in their own aspects. Where the Martin builds upon its traditional squared-shoulder design, the Gibson keeps its classic sloped-shoulder aesthetics.
Both guitars reflect the highest quality craftsmanship from their parent companies. The Gibson J-45 uses Solid Mahogany for the back and sides, while Rosewood adorns the D28's back and sides.
There are a few differences in the hardware appointments:
Rosewood (J45) vs Ebony (D28) bridge
Black Composite nut/saddle (J45) vs Bone nut/saddle (D28)
The J45 uses Grover Rotomatics tuners while the D28 uses Nickel open-gear tuners
Gibson J45 comes with LR Baggs VTC pickups while the Martin doesn't come with preinstalled electronics
Looks are always a personal preference. I'm all about that traditional Martin dread aesthetic although I absolutely cherish the round-shouldered Gibson vibe too. You really have to see them in person, maybe in a store or at a friend's and see what floats your boat.
Playability
Feel-wise, there is a bigger difference between the two.
The J-45 with its shorter scale and narrower neck might appeal more to smaller players. This design might also be better suited for fingerstyle players.
The D28 will give you that traditional full-size dreadnought body that most manufacturers have adopted nowadays. The size difference isn't huge, but some people might find Gibson's form factor more manageable.
The Gibson has a larger fingerboard radius (16") than the Martin (12"). This means the fretboard feels more curved on the latter and might be easier when playing barre chords or fast licks across the neck. But this again is totally subjective.
Sound
The D28 and J-45 are $ 3,000 guitars. What do you expect them to sound like?
Both the J-45 and D28 sound phenomenal and are incredibly versatile acoustic guitars.
Well, what's more surprising is that these guitars sound noticeably different from each other (Not very surprising is it?). The differences in design and tonewood come into play here.
Mahogany on the Gibson produces a rich, warm sound. The J45 has less 'air' for sound vibrations because of round-shoulders and shorter scale. This results in lesser thump in the bass and ever-so-slightly less volume. But this also means individual notes are crisper and more articulate.
The Martin, on the other hand, has a lot more room for air vibration resulting in powerful deep bass and sustain for days. Rosewood is an extremely hard wood and gives the D28 that 'big' sound. The bass is almost always dominant on the D28.
This is what makes both these guitars very unique!
Although I'm sure both the D28 and J-45 can do anything you want from them, there may be cases when one is better suited than the other.
Price
Price-wise wise there isn't a massive difference between the Gibson J-45 Standard and Martin D28. The Gibson can be found just under $2850 while the Martin usually retails at $3000.
Keep in mind that this is for the natural finish on the Martin, and you'll have to shell out an extra $200 for a fancy sunburst finish. The Gibson makes no such distinction against different finishes.
You can decide for yourself whether the $150 gap is enough to affect a buyer's decision. In my opinion, it's not.
There are other variants of both these guitars. A D28 Modern Deluxe will cost you around $4000 while the Authentic 1937 Vintage model will set you back by almost 7 grand (ouch!). Similarly, Gibson sells a Deluxe version of J-45 at $4000 and a Vermillion Burst model for $3500.
Final Thoughts on Gibson J-45 vs Martin D28
Some people will state that the Martin D28 vs Gibson J-45 debate is an "apples and oranges" argument. Then there are folks who will clearly demarcate applications and use cases for the two guitars.
While I tend to agree with the former, I understand that not everyone can get their hands on both guitars, let alone afford both, in which case you need to know the differences.
With the Gibson J-45, I think of a folkish or singer-songwriter guitar. It sounds beautiful fingerpicked or strummed and even as vocal accompaniment. The shorter scale and slope-shouldered body make it easier to play for a lot of players.
The Martin D28, on the other hand, I think of Bluegrass, primarily flatpicking and a powerful sound. This is the type of guitar that will cut through the most in a band setting.
With that said, these are such iconic guitars with a legendary history behind them that it's simply impossible to rate one guitar higher than the other.
The only way to find out is to play them yourself!
FAQs: Martin D-28 vs. Gibson J-45
What Artists Play the Gibson J-45?
Some of the greatest artists known for rocking a Gibson J-45 include Elvis Presley, Bob Dylan, Bruce Springsteen, John Lennon, Buddy Holly, Woody Guthrie, James Taylor, Gillian Welch, and many more.
What Artists Play the Martin D-28?
The Martin D-28 has been a staple of many country and bluegrass players, such as Johnny Cash, Hank Williams, Doc Watson, Tony Rice, and Paul McCartney.
Is a Martin D-28 Good for Fingerpicking?
Dreadnoughts are generally not the best option for fingerpicking. They are loud and bassy and are more suited for strumming or flatpicking. For the same reason, I'd prefer a concert or auditorium-sized acoustic specifically for fingerpicking.
Which Guitar is Louder, the Gibson J-45 or the Martin D-28?
The Martin D-28 is often considered louder due to its excellent projection and resonance, making it a preferred choice for players who need a guitar with a strong presence in live settings.
What About the Resale Values of the Gibson J-45 and the Martin D-28?
Both guitars hold their value well in the used market. Vintage models, especially those in good condition, can appreciate over time. The resale value can also be influenced by the guitar's rarity, historical significance, and overall condition.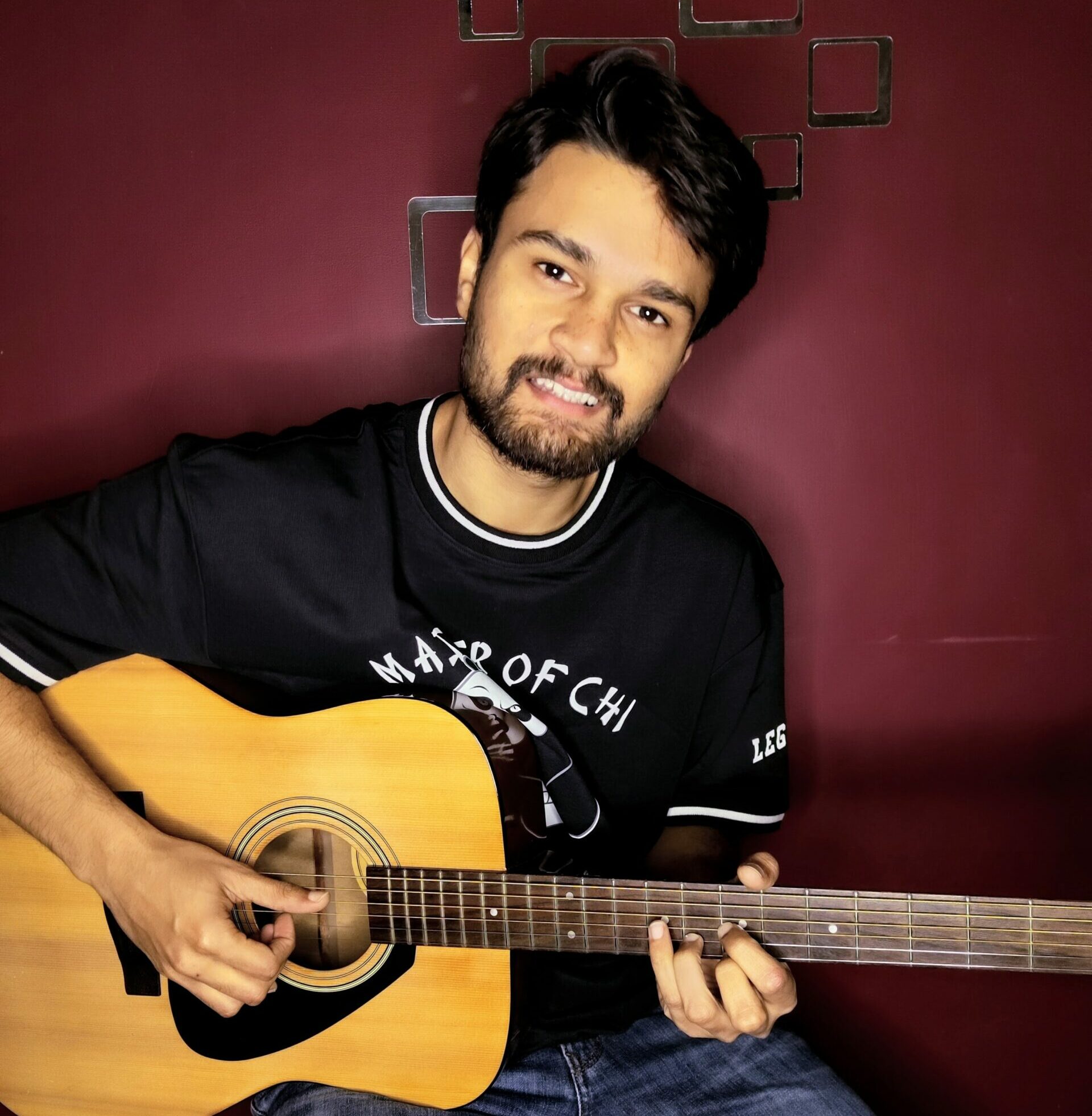 I'm Pranshu. I've been a passionate guitarist, keyboardist, and music producer ever since I got my hands on a keyboard as a small child.
With Harmonyvine, my goal is to share tips and knowledge about music and gear with you. I also enjoy recording music and guitar covers, which you can check out on my Instagram page.