Welcome to our updated shootout of the Best Electric Guitars in 2023!
To us, an electric guitar doesn't need to be expensive to be great. As long as it gets you the sound you need and lets you express your musical creativity, it's the 'right' guitar for you.
When curating this roundup, we've particularly considered the value-for-money proposition offered by all these guitars. So, you may not find the most exorbitant, feature-laden models or collectors' favorites here.
But what you WILL find is superb looks, stellar build quality, and tones that inspire you to keep going. Our guitar selection covers a broad range of genres, skill levels, and prices. These are the most sought-after instruments from the likes of Fender, Ibanez, Gibson, and other big names in the guitar industry.
So, whether you're a newcomer or pro – whether you play rock, jazz, blues, or metal – there's something for everyone here.
Without any further ado, here are the best electric guitars for the money!
12 Best Electric Guitars For The Money Reviewed
The beginner guitar we all wish we had
In 1990 the Yamaha Pacifica Series came to this world to cater to the California music scene, where the demand for cost-friendly, versatile, and high-value instruments was at its peak.
Its universally appealing design, based on the Superstrat platform but with a touch of tradition, has made available a solid and decent quality instrument to everyone out there.
This is a great beginner guitar for growing players at an unbeatable price.
The Yamaha PAC112V has a lightweight alder body, a very comfortably profiled alder neck, and a rosewood fretboard. The C-shaped neck is smooth and playable right when you first pick it up, great for chords and lead playing.
The vintage 5-point tremolo is built well, and its closed gear tuners will save you from re-tuning in the middle of the action.
Its versatile H-S-S pickup configuration lets you go from crisp, clean tones in the middle and neck positions to highly distorted and articulate sounds in the bridge position thanks to its Alnico V pickups.
And as if that were not enough, you have the plus of splitting the bridge humbucker to have full access to single-coil tones all over the place.
So, if you want this guitar for a beginner that wants to explore all sonic possibilities, this would be the perfect one. But if you're a seasoned player, you'll equally perceive its quality and true usability.
Pros:
Built to last
The neck is instantly playable
Good pickups and coil-split, which's incredible for the price point
Cons:
Output jack comes loose on most units
Needs a setup out of the box
---
Classic vibe? More like "Classy-ic" Vibe?
This is a budget homage to the classic of the classics of electric guitars. The Squier Classic Vibe '60s Stratocaster combines modern updates with the unmistakable vintage appointments of its original ancestor.
This design brought the Strat sound that marked guitar history forever into the Squire platform.
Its classic three alnico V single-coils and 5-way switch give you that warm and clean Strat tone.
And they added a real bone nut, which Is a beautiful detail that you don't usually see on a guitar priced like this one.
The C-shaped maple neck doesn't feel harsh either with its beautiful gloss finish, and its curvy 9.5″ radius fretboard feels pretty comfortable for chording. Its fret ends are polished and there are no rough edges.
Plus, the "Synchronized" tremolo bridge is of good quality, making this guitar a wonderful deal.
The craftsmanship of this guitar is excellent. The fit and finish feel like a much more expensive guitar, the knobs, and hardware in general work perfectly fine too, plus, you will get it right out the box ready to play smoothly. It keeps in tune pretty well too.
The stock pickups are a real representation of what the Strat sound is. They do sound great believe it or not. You'll get great cleans and crunch sounds all on the same guitar. And if you push your amp a little more, the overdrive tones won't feel muddy at all.
Pros:
Pretty decent hardware
Good pickups for the price
Bone nut
Cons:
A little dry fretboard
Factory strings aren't too good
---
Lookout, it's a shredder!
The Jackson Dinky Series is an even more modified version of what's commonly known as the "Superstrat" platform. It's named "Dinky" because of its smaller 7/8 body size.
The Jackson Dinky JS32 DKA is an instant attitude machine in visuals, and of course, sound.
This very affordable Dinky delivers a robust, growling sound and long-lasting sustain thanks to its resonant but lightweight Nato body with an arched top.
The Jackson "speed" neck profile has several decades out there already and even now it is still the favorite for thousands of players around the globe.
It has a maple neck and its Amaranth fingerboard has a compound radius, for easy playing chords in the first frets and easy soloing in the upper register.
It comes with a floppy and buttery Floyd Rose tremolo bridge, and its double-locking system is just the best one for not re-tuning your guitar for ages.
If you're "that" kind of guitar player who likes to take all out from your guitars with no mercy, bending like there's no tomorrow, and diving bombs in each song even if it was a ballad, that's ok, this one can handle that.
Even at this price point, the humble JS32 Dinky DKA possesses the solid build quality Jackson's have been known for decades.
Pros:
High performance for a low price
Excellent finish
Very fast neck
Cons:
Needs some fret polishing
Floyd Rose tremolo might be tricky to adjust for some
---
A super-fast and metal-ready axe!
Schecter Guitar Research company started in 1976 as a custom shop replacement parts supplier for guitars like Fender and Gibson. And after a long process of trial and error, it was in 1987 that they took the brave leap into their own brand and designs.
This turned out so well that even now Schecter guitars are unmistakably recognized for their high quality in every range of their instruments and music-making products.
So, now you have been warned! With the Schecter Omen-6, you know you'll find a dangerous axe.
This one was born to shred. That's its purpose in life. It comes with a string-through-body Tune-o-Matic bridge for a sustain that's just a bit shorter than forever.
Its thin and fast bolt-on maple neck will let you go from fret 1 to 24 in less than a second. It comes with high-quality tuners that can free you from tuning every single time you pick up the guitar.
And its branded Schecter "Diamond Plus" humbuckers are clear and full-bodied. This is unbelievable for its price range.
The overall craftsmanship is good in every aspect. The tone and volume control actually work as a sweet fade in/out instead of an on/off switch.
So, in the end, this guitar can actually be used not only for beginners but in a professional setting too. It checks all the boxes: workmanship, fit & finish, and sound. This is a true shred machine.
Pros:
Superb hardware
Excellent pickups
Great playability
Cons:
Some units come with fret buzz
A little heavier than usual
---
A semi-hollow full of Gretsch goodness
The G2622T Streamliner achieves to get you a legit semi-hollow Gretsch guitar for way less the cost.
It has a truly snappy tone with lots of headroom that comes from its 5-ply arched top maple body.
And its weight-relieved spruce woodblock covers the whole center of the body, making the Streamliner sound like an authentic hollow-body guitar while at the same time saving you from that harsh feedback issue that usually comes with this type of design.
Since that block comes connected to the bridge, the note vibrations resonate all over the guitar giving you even more sustain than usual.
The fact that it handles feedback pretty well turns this guitar into a much more versatile instrument that doesn't necessarily have to be trapped in only one genre or tone.
Gretsch's original "Broad'Tron" pickups deliver a well-balanced tone reminiscent of the classic sound of which they're inspired, and it comes with a Bigsby tremolo tailpiece for that old-school vibrato chords.
The control layout is quite impressive. It has one volume control for each pickup, letting you balance them exactly as you wish.
Then, you have a master tone control, and a very interesting master volume, which allows you to go from clean to growl without losing the balance of the pickups, so this apparently simple detail actually opens up a huge variety of tonal possibilities.
Pros:
Beautiful in every aspect
Broad'Tron pickups sound good
Very comfortable neck
Cons:
Some units come with small electronic issues
Some neck dive
---
The Les Paul-inspired model that broke the mold
ESP Guitars created their LTD line to make their high-value instruments accessible to everyone. That decision has made happy thousands of people already, and still does today.
Pick up the ESP LTD Eclipse EC-256FM for a great value in a true rock machine. This is the guitar that'll give you great playability, versatile tone, and workmanship that leaves behind most guitars on this price tag.
The ESP humbuckers can handle almost any style, and you get a well-made split-coil circuit that makes this single-cut sound like no other.
If you need a really great rock guitar on a budget, the Eclipse EC-256FM is the one to have in your mind.
The timeless ESP Eclipse design will always scream ROCK!
With its high-mass body, you'll feel the resonance from the first strum, and the arched top will make your arm feel at home whether you're a soft or hard picker.
The deep and sharp cutaway is the point that stands out from this guitar design, giving you unparalleled access to play every single fret with total freedom.
All ESP LTD guitars are made with premium woods, good quality pickups, and very durable bridges that feel like higher-priced units.
They take their quality control seriously, and every guitar leaves the factory in a fully playable state.
These statements are confirmed by the great list of guitar legends using ESP LTD guitars, so, if you're searching for the predilect rock machine, these are highly recommended.
Pros:
Lighter and Thinner than a Les Paul
Includes coil-splitting wiring
Its quality exceeds its price point
Cons:
Stock pickups may not be for everyone's taste
Would recommend swapping the tuners
---
Vintage vibe. Modern specs.
The Telecaster was the one that started it all for Fender in the history of music. Leo Fender created it in the early 1950s under the name of Broadcaster.
All of its design, including the body cuts and bolt-on neck, defined the trademark of what we know today as one of the most commonly recognized guitars on the planet.
From country twang to robust rock sounds, the Telecaster tone has made its way into almost every musical genre. Many high-level players, including Keith Richards, Jimmy Page, and Tom Morello corroborate its versatility.
Many people tend to think Telecasters are only for one scenario. Of course, they didn't play a Fender Player Series Telecaster yet. Its Alnico V single-coil pickups open all the possibilities from full-bodied pop to country twang or overdriven rock.
The modern "C" shaped neck with 22 frets and an easy-to-play fingerboard delivers a very comfortable action and playability. Plus, you get high-quality hardware that won't fail you.
If you love the real Telecaster sound but need a more modern feel, the Player Series Telecaster can be the right one.
Designers at Fender returned to the roots with classic body shapes, long-time no-use vintage finishes, and a classic logo that sent us right back to the 50s.
But at the same time, they sent us to the future by adding 22 frets, upgraded bridges for improved sustain, and modern pickup output that perfects the small flaws of the original design.
And don't say we didn't warn you. Once you get it, you won't feel like putting it down.
Pros:
Authentic Tele sound
Great finish and playability
On a par with Teles costing twice its price
Cons:
Pickups might be noisier than usual
Comes poorly packaged, leading to some damaged units at delivery
---
The fancy Swiss knife of guitars
In 1985 Paul Reed Smith started crafting top-level guitars for the top-level players of the time, and even now the high-quality components and craftsmanship still outstand the brand's name.
The PRS SE Custom 24 achieves the excellent playability, beautiful looks, and great sound of the American-made models in a budget-friendly version.
Its mahogany body with a true maple top is now upgraded with a classic "violin" carve that definitely can make anyone think this is a highly-priced instrument.
These two pieces of wood combined achieve a full midrange with clear highs, and the striking flame maple top veneer completes its perfect appeal.
They have Korean 85/15 "S" pickups that actually sound almost like their original versions, giving a full-bodied humbucker sound but also including a very good-sounding and truly usable coil-split sound.
The "Wide Thin" neck profile is a fast and easy but chunky neck at the same time, perfect for many of the players out there, and the classic "Birds" inlays make this guitar stand out over the rest and don't let the Custom 24 left without any of the small details that make the difference.
This is a true PRS in quality and value. Now you don't have to be a millionaire to rejoice with the feeling of an authentic PRS guitar
Every single PRS guitar is intended to be perfectly playable right out of the box, which definitely includes the Custom 24. Actually, there's no PRS that comes poorly set up from the factory.
Pros:
Very versatile
Outstanding craftsmanship and finish for the price
Excellent pickups
Cons:
The neck profile might not be for everyone
Some units come with loose electronics
---
A worthy reissue of a classic hair metal machine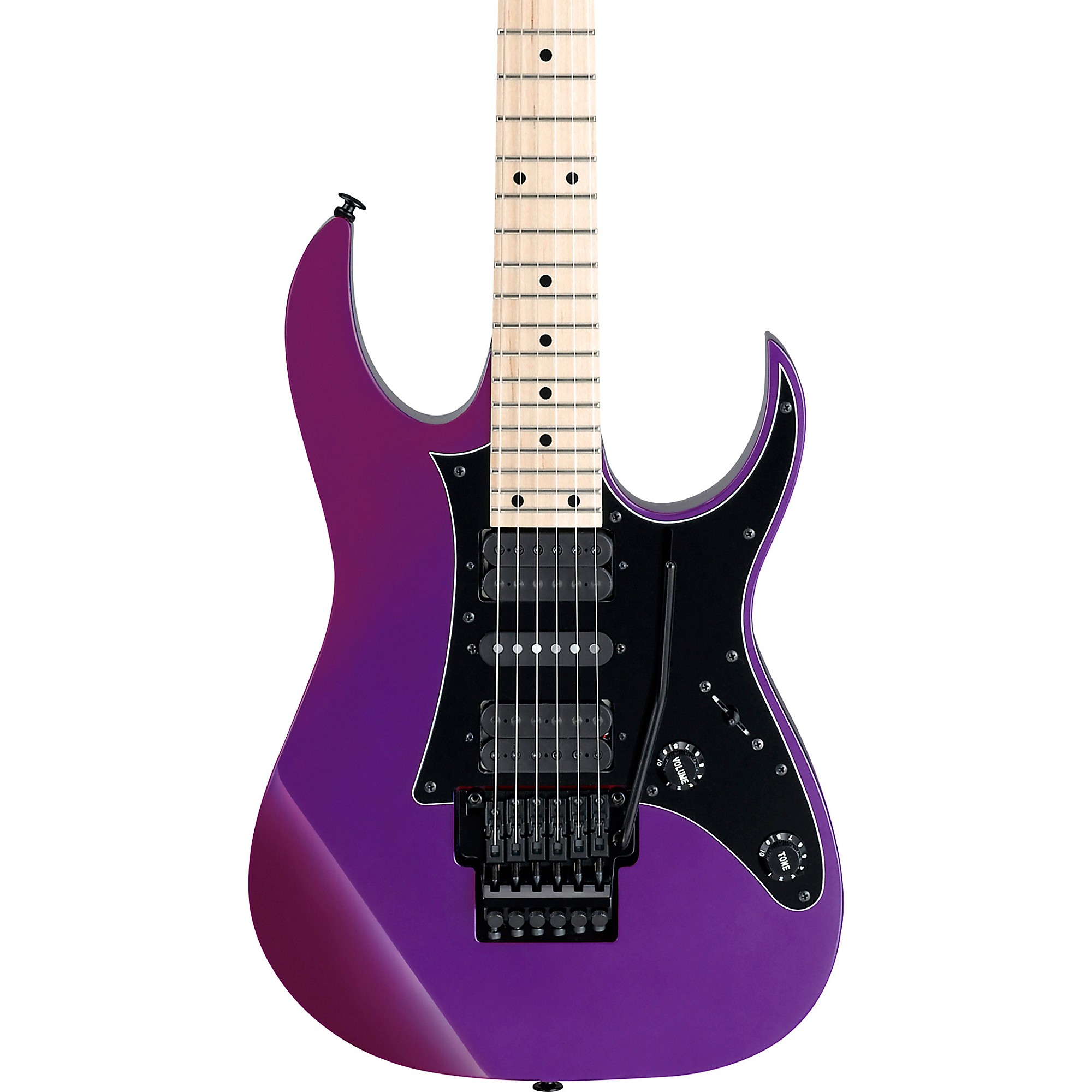 The RG550 debuted in 1987, and since then, it's still one of the main references for rock and metal genres.
The Genesis collection establishes its foundations from its Grandpa but gets modernized with some well-made twists.
The first noticeable upgrade is its 5-piece maple/walnut neck which gives you extreme tuning stability, instead of the previous 1-piece maple.
The "Super Wizard" neck profile and 24 jumbo frets maple fingerboard have gained their name in guitar history as well for being one of the most comfortable neck designs of all time.
Their classic V1 and V2 pickups were updated with their upgraded V7 and V8 models which sound good for almost any use.
Its classic basswood body is lightweight and gives it good mids that will make you cut through any mix without any concern, and its body contours will make your arm and belly feel at home.
One of the key points of the RG550 is their low-profile "Edge" locking tremolo, which grants you permission to get crazy and make dive bombs all day long without having to re-tune your guitar.
What I love about these guitars are their striking colors. You won't get one of these and go unnoticed… never.
This is a reissue of the Ibanez that marked the history of the 80's rock and metal. If you crave the feel of a classic RG, you'll love the RG550.
Pros:
Perfect for thin neck lovers
True 80's sound and feel
Eye-catching finishes
Cons:
Some paint finish details
The pickups lack some low-end
---
Paying tribute to the ancestors
The number one guitar on the classiest Gibson line was the Les Paul Custom. It was requested by Les Paul himself when he decided a higher-level version of his already iconic model had to exist.
He definitely got what he asked for when the Custom version came with an all-mahogany body, a classy ebony fingerboard, a perfect binding, and beautiful inlays.
The Epiphone Les Paul Custom accurately recreates that deep musical and aesthetic appeal of the original Les Paul Custom in every single detail.
It has the same mahogany body, inlays, and binding and sounds like a true Les Paul should.
The Grover tuners take the tuning stability seriously and the "Slimtaper" neck profile feels just right in your hand, as if you could really trust in it! This is a guitar that you won't let go unnoticed.
It has been six decades already and the Les Paul still captivates players as it was the first time, and this Epiphone not only looks fancy, it feels like the real deal too.
Its carved top body with the set-neck construction is super resonant. And the cherry on top goes to its "ProBucker" pickups. Based on the original "PAF" humbuckers, which were the ones that shaped the tone of an entire generation.
The "ProBuckers" pickups have a full-bodied sound and warm response. When you first plug it in you'll know what all that really means. Plus, this Epiphone comes with coil-splitting capabilities to just finish breaking the ground.
Pros:
Excellent finish
A true Les Paul fit and finish
Great sound with coil-splitting
Cons:
Not ready to play out of the box
Some rough frets
---
The classic that'll be your new honey… (burst)
You might think that the Gibson Les Paul, today known as one of the titans of electrics, was always like that. In fact, when first launched, the Les Paul was considered a commercial failure.
But then, after years of effort Gibson re-introduced it in 1968 and managed to get the Les Paul to be one of the first mass-produced electric guitars in the world.
If you have a dream about adding a classic Les Paul to your arsenal but don't want to hurt your wallet, the Gibson Les Paul Tribute can help you with that.
It features a modern weight-relieved mahogany body with a solid maple top for that iconic tone you expect, without the extra-heavy weight that classic Les Pauls are known for.
Its perfectly achieved nitrocellulose finish allows the wood pores to breathe and show their original colors.
The Tribute series features a reissue of the early Les Paul rounded neck profile for those who love the feel of the original design.
And its Nashville Tune-o-Matic bridge will transfer the vibrations all over the body for that sustain we all like.
This is a homage to the instrument that changed rock history forever. Once you pick it up, you'll know exactly what thousands have felt, heard, seen, and even smelled, and agreed that this is the one.
Pros:
Excellent Gibson feel
Great sounding pickups
Lightweight, but still genuine
Cons:
A little dry fretboard
Some units come with not-so-smooth fret edges
---
This is today's affordable and genuine Stratocaster
In 1954 Leo Fender introduced the Stratocaster, but it was 13 years after that Jimi Hendrix actually turned this contoured and sleek design into the one guitar to idolize for generations to come.
Fender's American Performer series gives you up-to-date US-made craftsmanship, which turned out to be exactly what we all expected it to be. And comes dressed up with really vibrant finishes, giving fresh life to this already beloved classic guitar.
The American Performer Stratocaster HSS gives you a sweet blend of premium classic qualities with modern, no-nonsense upgrades.
It has the classic alder body with a fast-playing and perfectly made maple neck.
The "Yosemite" single-coil pickups have increased output thanks to its flat-staggered pole pieces, and the "DoubleTap "bridge humbucker comes with a coil-split circuit activated through the first tone knob.
The second tone control activates the "Greasebucket" circuit, allowing you to cut the highs while maintaining the gain, which is quite impressive.
So, you'll be able to make all that a Strat is supposed to do, but now way more.
The vintage/modern "ClassicGear" tuners feel fluid but sturdy. You have the synthetic bone nut for great tuning stability, matched with the "Synchronized" tremolo bridge to get that beautiful vibrato to your chords and soloing notes.
This is the best moment in history to get that genuine American-made Fender Stratocaster you've been dreaming about.
Pros:
Authentic Fender feel
Premium components
Perfect fretboard finish
Cons:
The included gig bag doesn't go in accord with the price
Some units come with electronic issues
---
Electric Guitar Buying Guide
Wood Types
The chosen tonewoods of a guitar affect the sound and weight of it, but at the same time, a more expensive wood doesn't necessarily mean the guitar will sound better. In the end, the deciding factor will be your own experience of the sound of each wood.
Body Styles
There are three basic styles: Solidbody, Semihollow, and Hollowbody.
Solidbodies are perfect for use with loud amplification and lots of effects.
Semihollows are better when you need a more acoustic tone but have the intention of adding some boost or overdrive.
Hollowbodies, or "jazz" guitars, have an acoustic tone that's recommended for using without distortion.
Construction Method
There are 2 main types of joining the guitar neck and body, one is "set neck" and the other is "bolt-on." the set neck may give you more sustain, and the bolt-on gives you the possibility of swapping the neck if it is needed.
Neck Profile
The neck shape is another aspect that will be totally up to you to decide. There are a large number of neck profile shapes, but the most commonly known are the C-shaped, D-shaped, and V-shaped. Each one gives you a very recognizable and distinct feeling.
Scale Length
The scale length of a guitar is the distance between the nut and the bridge. It has a huge impact on tone, string tension, and feel. A longer scale length is important when you want to tune your guitar lower because it will maintain the tension needed for the strings to vibrate properly.
Bridge Type
Electric guitar bridges are a complete world on their own, but we can say there are two main types: the fixed bridge and the tremolo bridge.
The fixed bridge is simple to use and manages the tuning stability well, and the tremolo bridge is perfect for adding vibrato to one or all strings at once.
Pickup Types
There are 2 main electric guitar pickup types: the single-coil and the humbucker. Both have variants called the P90 and the mini-humbucker.
Most guitars come with two pickups, each one of them will have a very different sound, mainly because of the position on the string where they are "picking up" the sound.
Tuners
Tuners are an essential part of the guitar. They hold the pitch of the strings.
Usually, high-quality tuners are praised because the higher the quality, the less they will lose tuning, allowing you to play full songs without getting your guitar out of tune.
Finish
The finish of an electric guitar is one of the aspects that makes the guitar world so interesting. The variety of textures and colors are virtually unlimited, so you can really express your personality with the finish of your guitar.
Final Thoughts on Best Electric Guitars for the Money
If you ask me, the Yamaha Pacifica 112V is an easy recommendation for beginners on a budget. And if you're a classic rock shredder or metalhead, you should consider one of the superstrats from Ibanez, Jackson, or Schecter.
If you're after popularity and historical importance, the Fender Stratocaster probably has that title. It's the guitar that changed the guitar industry. In fact, without the Strat, we might not have more than half of the guitars listed above.
Anyways, these were some of the best electric guitars you'll find in the market today.
There's no way this list could have included all of your favorites. (Unless I decided to write an entire book of course!)
You're welcome to share what you think is the best electric guitar in the comments below!