This article introduces you to 30 Advanced Acoustic Guitar Songs that will take your guitar skills to a level where most guitarists dream to be at.
A few pointers before we jump on to the list:
I have categorized these songs into three main acoustic guitar play styles – Fingerpicking, Percussive and Flatpicking songs.
I have not included any Classical or Flamenco pieces (So, no Beethoven's Moonlight Sonata 3rd Movement arranged for guitar).
No covers/arrangements of other songs unless it's written for acoustic guitar.
The song must be at least somewhat popular, and is therefore fun to learn and impress others 🙂
As you might have guessed, we are mainly talking about solo acoustic guitar songs that are must-have additions to any intermediate/advanced player's repertoire.
The hardest part of curating such a list is to pick what NOT to include, which you will see why.
Without any further ado, let's dive into the list of some of the hardest songs ever written for the steel string acoustic guitar.
Fingerpicking Songs
As they say, Fingerpicking enables you to sound like two guitars at once. Instead of a single plectrum, you now have four or five, which means you can do rhythm, chords, and melodies all together.
The tricky bit about fingerpicking is that it ramps up exponentially in difficulty. Most beginners start with learning some basic fingerstyle patterns but as soon as you follow with thumb independence and the customary boom-chick technique, you begin to realize that you have a lot to learn.
Anyways, these advanced acoustic guitar songs are not only technically challenging, but they sound fantastic and are an absolute joy to play.
Don't try learning any of the following songs if you've never played with your fingers before!
---
1. Jerry's Breakdown – Jerry Reed
Jerry's breakdown is among the foremost country songs of all time. Partly because it's written by two of the biggest country legends: Jerry Reed on the nylon string and Chet Atkins on the electric guitar, that's something to remember in itself. And partly because it simply is a phenomenal artistic piece.
It's easily one of the most challenging fingerpicking songs you'll ever play. More so if you try to learn it the way Jerry plays it. He never uses his index finger during the entire song, and it's still some of the cleanest picking you'll ever hear.
---
2. Mister Sandman – Chet Atkins
Speaking of Chet Atkins, him and Jerry Reed are on top of the list when it comes to writing and performing solo and vocal songs. Chet was the greatest in arranging and making a smooth transition from notepaper to guitar.
The song features a quintessential fingerpicking technique – Travis Picking. Chet plays a combination of flatpicking (using his thumbpick) and boom-chick fingerstyle, and you'll definitely notice a flavor of classical technique.
While it might not the hardest song on this list, it's pretty damn insane and it sounds so sweet.
---
3. Classical Gas – Tommy Emmanuel (Mason Williams)
And then here's the song that I still struggle playing even remotely close to how Tommy nails it, to this date. And that's after 3 years after I started learning it. Yeah, go ahead, laugh all you want!
Classical Gas was originally written by Mason Williams on a nylon string guitar. That's actually much, MUCH easier than Tommy Emmanuel's cover on the steel-string acoustic. (Dang you, Tommy!)
Crazy fast licks, not the easiest of chord shapes, palm-muting with the thumbpick, and intimidating percussion effects throughout the song – Any inexperienced player is bound to have spasms should he dare to try this one.
---
4. Big Love – Lindsey Buckingham
Big Love is one of the first fingerstyle songs I learned, and I'm very grateful for that.
In my opinion, the tricky bit to this song is the thumb playing in continual 4/4 rhythm, for the majority of the song. So make sure to practice your thumb independence, as there are a lot of melodies, chord changes, and arpeggios going along with the 4/4 thumb pattern.
And on top of all that, Lindsey sings while playing too, quite incredible. The song is easy on your left hand, so at least that's a relief.
---
5. Angeles – Elliott Smith
Angeles is one song that'll take your fingerpicking skills to the next level. At first, you might not notice, but the picking speed is insanely fast in this one.
The left hand uses fairly basic chords, so that's a relief! Or is it?
You also have to practice playing strums in between the fingerpicking patterns, which is tricky to get down at first. Elliott Smith sings in this song, but you don't have to.
---
6. Level 40 – Ewan Dobson
Time 2 by Ewan Dobson is one of the most majestic and upbeat tunes ever written for an acoustic guitar. But that's NOT the song we're talking about today.
Level 40 is the perfect example of his innovative and highly technical playing style. And how you can create a modern progressive and groovy song using just 6 steel strings, your fingers, and a thumbpick!
---
7. Southern Mongolia – Maneli Jamal
Southern Magnolia is an enchanting instrumental guitar song by young fingerstyle guitarist Maneli Jamal.
Don't let the song's charm fool you though! It's actually quite tough to get it clean and flawless, with perfect legatos and harmonics. You need strong left-right hand coordination and a good sense of rhythm to master this one.
Maneli Jamal plays it with a thumbpick, but feel free to try it the way it feels comfortable to you.
---
8. Angelina – Tommy Emmanuel
Of course, this list couldn't be complete without the mention of Angelina, a heavenly song and an all-time favorite by Tommy Emmanuel.
Though not as technical or fast as his renditions of Classical Gas or Guitar Boogie, it's definitely up there with acoustic songs you must have up your sleeve.
---
9. Never Going Back Again – Fleetwood Mac
Never Going Back Again is played by the same guitarist that sits at #4 with Big Love. This song uses one of the most dreaded 'things' in music – Polyrhythm.
The thumb plays in 4/4 while the rest of the fingers are alternating between 2/4 and 3/4 time signatures. Sounds too technical right? It kind of is.
It's extremely hard to get it down in the first place, but when you do, you have conquered a big hurdle in your fingerpicking journey. If you didn't practice your thumb independence with Big Love, forget about attempting this song.
---
10. Jolene – Dolly Parton
Another highly recommended song for beginners and intermediate players to practice fingerpicking. Jolene is an extremely fun song to play and to listen to, so there's that.
The composition is based upon a catchy fingerstyle riff and some basic chord progressions, and beautiful vocals by Dolly Parton.
---
Percussive Fingerstyle Songs
This is probably the trickiest section to decide songs upon.
Firstly, there are hundreds of awesome songs I could pick from, by extremely talented guitarists (which is always the case). Secondly, and more importantly, it's almost impossible to choose just 10 of them, let alone rank them.
But I did it anyway! Let me know how good of a job did I do!
By the way, if you're a beginner with the percussive guitar style, I also made a separate list of 10 easy percussion guitar songs you can check out!
1. Overload – Mike Dawes
Talk about percussion on an acoustic guitar. For me, Overload is actually a drum track with guitar on top of it.
It's probably the most creative use of percussion I've ever seen in a solo guitar song, with a neat rhythm, an extravagant bassline, and a captivating melody.
I can't recall many songs that are harder than Overload. Just search for covers on YouTube, you'll barely find a couple. The moment you start learning the song, you'll know why is that the case.
The song uses one of the most widely used open tunings for fingerstyle – DADGAD. It's actually one of Mike Dawes' favorite tunings. Try it out once, you'll love it! (I'm talking about the tuning. Good luck learning the song 😉 ).
---
2. Neon – John Mayer
Neon is one of the most iconic pop-rock songs of all time. So you know you're learning something that's truly worth it.
You'll find quite a few tutorials with different techniques to play this song. But what makes it so special, and the way John Mayer plays it is the use of a slap-pop-like technique with your right hand.
It's quite a difficult technique to get down for first-timers, and once you get it (somewhat) down, you have to get familiar with some of the hardest chord shapes, that are not very fun and impossible to play for an extended period.
---
3. Phunkdified – Justin King
Did anyone say slap-pop?
Well, here's Phunkdified. Probably as cool as it can get with the slap technique on acoustic guitar.
The song is in DADGAD tuning and involves a lot of slapping and popping while playing rapid basslines with your left hand. Add to that some precise tapping and artificial harmonics and you get one of the most advanced acoustic guitar songs ever composed.
---
4. Drifting – Andy McKee
Here's the song that made Andy McKee a YouTube sensation, the Andy McKee we all know now as one of the foremost modern fingerstyle guitarists of all time.
One could easily argue that there are 10 others of his songs deserving to be on this list, but Drifting wins by quite a margin when it comes to the sheer popularity and influence.
It's not the most technical song if you're used to the percussive style and alternate tunings, it's actually easier than it seems. But Drifting is certainly a really impressive one to show your friends and is extremely fun to play. It does take time to learn, but it's a great piece to have in your repertoire.
---
5. Aerial Boundaries – Michael Hedges
The title track of Michael Hedges' second album is beyond words. The beauty and magic of this haunting piece are one thing. But it's the compositional prowess and unrecognizable electronic manipulation that makes it one of the most important songs in fingerstyle guitar books.
There are moments on Aerial Boundaries where it seems literally impossible that so much music is coming from one man and his guitar.

Daniel Gioffre, AllMusic
If you're a guitar player and didn't know Hedges yet, you need to listen to his songs. Check out the entire album. It's full of solo guitar masterpieces.
---
6. Michael, Michael, Michael – Don Ross
For starters, Don Ross is known to have some of the craziest sense of rhythm when it comes to composing solo guitar pieces. And Michael, Michael, Michael is the perfect example of that.
If I were to describe the rhythm of this song, it would be creative, complex, and catchy. Otherwise, he uses usual fingerstyle techniques like artificial harmonics, hammer-ons, thumbpicking, tap harmonics to name a few.
This is one of those songs that usually takes a lot of time & effort initially, but once you get it down, it all makes sense and it becomes a standard in your guitar repertoire.
---
7. Passionflower – Jon Gomm
Passionflower is among the most popular percussive guitar songs of modern times. Jon Gomm makes a peculiar use of locking tuners to create beautiful sounding slides throughout the song.
The guitar is tuned really low for this one, so you won't get desired sound unless you use a thicker string gauge. If all of that wasn't enough, Jon also sings on top of his playing, which makes Passionflower ten times more appealing to listen to.
---
8. These Moments – Antoine Dufour
Of course, no acoustic guitar song list is complete without the mention of Antoine Dufour. These Moments is among his most popular songs and rightly so.
The song asks for an excellent sense of rhythm and technical skills be it artificial harmonics or tapping. Nevertheless, it's a melodic masterpiece to listen to or play, if you can.
---
9. Acousticore – Tobias Rauscher
I was blown away when I first heard Acousticore. I knew right away that I had to learn this song.
Guess what! I finally did learn the piece. Here is a short cover that I posted to my IG :).
It's not the most technical or fastest piece ever, it's easier than it sounds (Believe me!). The techniques you do need to perfect are: playing with your left hand above the neck, left-hand tapping, tap harmonics, and of course, percussion with both hands.
But it does sound freaking awesome!
---
10. San Francisco Drive – Petteri Sariola
If you ask me to name a master of acoustic guitar grooves, Petteri Sariola would be pretty high on my list. He has composed plenty of noteworthy percussive songs, San Francisco Drive being among one of them.
The song begins with a really catchy groove that'll surely get you noticed by anyone if you master it. The rest of the song builds up on top of that, with both slow and fast sections to keep the listener hooked, and the player busy.
---
Flatpicking Songs
Finally, we return to the good old flat-picking style only with an acoustic guitar.
Flatpicking on steel strings is quite a bit harder than on an electric guitar as your agility and speed is curbed by the extra strength demanded from your fretting hand.
Well, unless you are one of these players!
1. Taken Dreams (Acoustic) – Guthrie Govan, John Payne (GPS)
Guthrie Govan's electric guitar prowess is beyond the imagination and expertise of most guitar players. But how many people have heard him play the acoustic?
Taken Dreams is actually a song from the 2006 GPS album Window to the Soul, and it's originally played on electric guitar. This acoustic version is from the Two Seasons: Live in Japan DVD, and, it's better, and MUCH harder.
If you can even play this song 50% as close to him, you have my respect.
---
2. Guitar Boogie – Tommy Emmanuel (Arthur Smith)
Originally written by Arthur Smith, but interpreted recently by Tommy Emmanuel, like he is, this version of Guitar Boogie is a mix of upbeat country music, rapid licks, walking bass lines, and adept technical skills.
Tommy Emmanuel cranks up the tempo and adds crazy riffs throughout to this otherwise unfussy song. He adds a new dimension to its rhythm. If you're trying to attempt this song, remember to seriously warm up your flatpicking skills on the acoustic guitar.
---
3. Church Street Blues – Tony Rice
Church Street Blues is the title track of American guitarist Tony Rice's 1983 album. A delightful blend of flawless flatpicking, bass chord rhythms, and perfect vocals make this a must-learn piece.
It just sounds too flawless to believe it's performed by a single person, unless it's Tony Rice. The chords are fairly simple, but the real challenge is putting everything together.
---
4. Hotel California – The Eagles
Now, this is probably the most popular song on this list, yet it's not the hardest of them. Regardless, I had to throw this on the list. Even if you think it's much easier compared to the rest of the songs, you can make it challenging for yourself.
Try arranging multiple parts of the song on a single guitar. To spice things up, you can learn and perform the guitar solo on your acoustic guitar. Believe me, it sounds amazing on an acoustic too.
---
5. Cherokee Shuffle
Bluegrass is generally considered to be a technically difficult genre. Cherokee Shuffle is a very popular bluegrass shuffle and you should definitely check it out if you're interested in the realm of bluegrass music.
This flatpicking masterpiece showcases intricate melodies, lightning-fast picking, and infectious rhythms that will have your toes tapping and your heart racing.
Every note bursts with soulful expression and technical brilliance, revealing the boundless creativity of the acoustic guitar.
---
6. Drive – Incubus
Although not the most technically challenging song on the list, Drive by Incubus can be difficult if you struggle with picking while strumming. The song involves a lot of individually picked notes in between the strumming patterns.
It's not only the picking that's tricky, the chord shapes can be quite nasty for beginners to say the least. Once you start learning this riff, you'll quickly understand why this song is on this list.
---
7. Wheeling – David Grier
Another Bluegrass classic – Wheeling by David Grier. This one involves your fretting hand as much as your picking hand. Make sure you got your alternate picking down perfectly.
Grier's skills are out of this world as he effortlessly plucks the strings, creating a mesmerizing melody that's both technically impressive and emotionally captivating.
"Wheeling" is a true gem that showcases Grier's talent and love for the instrument. So grab a cozy spot, close your eyes, and let yourself get lost in the enchanting sounds of this incredible song. You won't be disappointed!
---
8. Beaumont Rag – Doc Watson & Merle Wason
"Beaumont Rag" is a lively and energetic instrumental composition originally performed by the legendary father-son duo, Doc and Merle Watson. The video above is Billy Strings' rendition of the piece.
The song begins with an irresistible and catchy melody that effortlessly dances across the fretboard, accompanied by rapid-fire alternating picking patterns and intricate cross-string runs.
The Watsons' flawless synchronization and impeccable timing create a seamless interplay between their guitars, delivering a delightful musical conversation. "Beaumont Rag" is a testament to the Watsons' technical virtuosity, showcasing their ability to captivate listeners with their dynamic and precise flatpicking style.
---
9. Decision at Glady Fork – Bryan Sutton
Our next song is from Bryan Sutton's solo album Ready To Go. Decision at Glady Fork is a beautiful-sounding bluegrass piece filled with fast licks and percussive elements. To master it, you need to have an insane picking hand.
---
10. Crystal Ann – Annihilator
We finish this list with Crystal Ann by the Canadian Thrash Metal band Annihilator. Although originally played on a nylon-string classical guitar, you can play it on steel strings too.
To play this piece, you need to have a solid hand at arpeggios and legatos. The good thing is that you can play it both with your fingers (classical technique) or using a pick.
---
Summary
This list is quite overwhelming, and it might not be a wise decision to try learning all of these songs at once. Start with the ones then seem right for your musical taste and playing style. Work your way one by one until you master all of these advanced acoustic guitar songs.
Good Luck!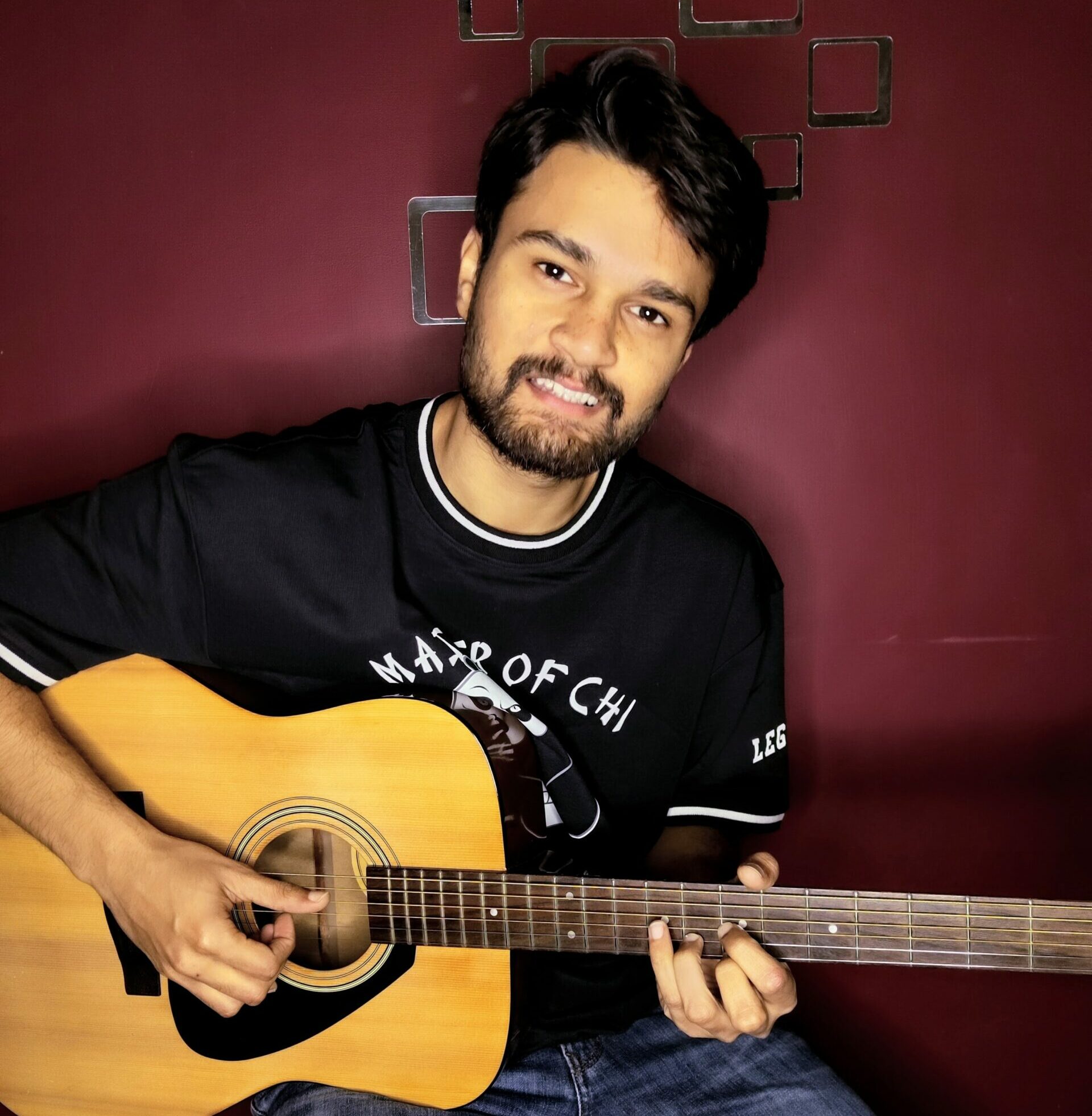 I'm Pranshu. I've been a passionate guitarist, keyboardist, and music producer ever since I got my hands on a keyboard as a small child.
With Harmonyvine, my goal is to share tips and knowledge about music and gear with you. I also enjoy recording music and guitar covers, which you can check out on my Instagram page.